Hi Boys and Girls,
Are you getting excited for the race to start?  I sure am.  I've been reading everything I can on this blog and on Iditarod.com.  I'm trying to learn about all the mushers.  I hope you are exploring the site to see what you can learn.
The week before the race starts, there is a teacher workshop where teachers from all over come to.  There are workshops, speakers, field trips, and presentations by the Target Teacher on the Trail finalists.  It's a very busy and fun filled week for the teachers who attend.  Every teacher receives a large dog bootie filled with goodies.  My human makes booties and Zuma asked her to make them for the workshop.  I really wanted to help this year and guess what, my human said okay.  I was so excited.  Since we (the K-9 reporters) get requests for bootie directions, I thought I would share what I learned.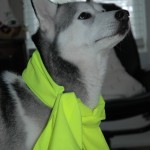 First we had to pick out the material. My human uses 330 cordura for the ones she makes.  Zuma told us that the material should be bright because that's what teachers like.  My human let me pick out the material.  I went though everything she had- black? NO! Blue? NO! Purple? Maybe! Neon Yellow—YES, YES, YES!!!!!  I wrapped it around me and went to show her what I had selected.  She thought it was the best color ever.  Then is was off to work.  Here is what we did to make the booties:
We cut the booties into strips.  Small booties should be 4×11 inches, mediums 4 ½ x 11 inches and large booties are 5 x 11 inches.  We are making large booties so they can hold lots of goodie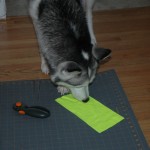 We then sewed one side seam (1/4" seam).  My human uses a serger to make a finished edge.  You can also use pinking shears.  Both the serger and pinking shears are used to stop the material from fraying.
We then serged (you can use pinking shears instead) across the top of the bootie.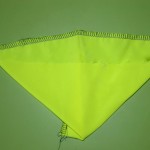 We then sewed on the Velcro/velstretch.  The velco or hook is cut in 2 ½" lengths for all sizes. The velstretch is cut in the following lengths-  small- 4", medium-4 ½", and large- 5".  You can look at the picture to see how it's sewn on.  Once the Velcro/velstretch is sewn on,  you need to sew a straight stitch about ½" on the other side of the seam.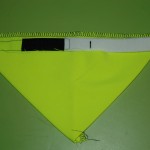 Trim excess threads. Turn right side out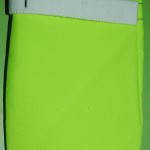 Booties are ready to wear.
Wow doesn't that seem easy!  My human and I were able to finish all the booties for the teachers.  Maybe your teacher is going to the workshop.  If so, ask to see the bright yellow bootie I  made just for them.
See you on the trail,
Gypsy
Click here to learn more about the Teacher Conference.