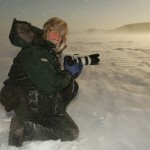 Hi Boys and Girls,
I am so excited.  I recently interviewed Jeff Schultz.  Jeff is the official Iditarod Photographer.  Many of the photographs shown on the Iditarod website were taken by Jeff.  He has been the official photographer since 1982.  That's 31 years!  What an accomplishment and what a great job to have!
Below are the questions I asked Jeff and his answers. 
Tell us a little bit about you?  "I am 53 years old and married to Joan for 27 years and we live in Anchorage.  We have a 24 year old son who is a paramedic/firefighter here in Anchorage.  He is married and last year his wife gave birth to a son.  So we are now grandparents for the first time.  We also have a 21 year old daughter who is very special where she needs personal care 24/7 in our home.   We are blessed to have them all as part our lives."  
When/how did you become interested in Photography?  "When I was in the 7th grade a friend of mine brought his brother's very nice SLR camera to school.  I looked through the camera and found that I just loved "composing"  a picture in the viewfinder.  I felt it was a God-given talent."
What is your favorite thing to photograph?  "I love to photograph nearly everything.  I just love the idea of composing a picture.  But outdoor adventure activities (hiking, fishing, mountaineering) is one of my favorites."
During the race how do you know where the best place to be will be for the best pictures of the day? "From previous experience along the trail, and listening to what others are saying about the trail.  And also just by being ready and watching what's going on.  There seems to always be a good photo ready to be made nearly anywhere on the trail."
How many pictures do you usually take during the Iditarod?  "I usually take about 10,000 photos."  Wow can you imagine that many pictures?  If he's taking pictures for lets say 21 days, how many pictures is that per day? 
How do you get up and down the trail?  Do you travel by dog sled?  "I fly along the trail with the Iditarod air force planes and also rent or borrow a snowmachine and ride between checkpoints or out from them."
The mushers don't sleep a lot during the race, do you get to sleep?  "I get a lot more sleep than the mushers, and it depends on the day and what's happening.  Sometimes I get little if there are events going on in the wee hours."  
Do you stay on the trail or in the checkpoints/villages?  "I sleep in the checkpoints at night."
Do you take photographs for the Iditarod at any other time of the year?  "Yes"
When and of what?  "I take photos for the Iditarod any time they need it.  That is typically; people who win the truck after the raffle, the volunteer picnic in the summer, portraits of mushers, staff and board members, the sponsor lunch." Maybe he'll take a picture of me someday.  I could use a new photo for the website J
Do you photograph anything that's not Iditarod?  "Yes"  What? "I take photos for corporate clients, magazines and shoot "stock" photos. "
What advice would you give someone who was interested in becoming a photographer?  "Learn the "science" of using a camera… how does the F-stop, shutter speed and ISO relate to how the photo looks?  How does using one lens look different than another.  Shoot lots and learn from your mistakes.  Go to school to understand it." Do any of you know what this means?  You can look up anything you don't know like what is an F-stop etc. 
Is there anything else you would like the boys and girls to know?   "You can read about one adventure of mine on the Iditarod in the March, 2013 issue of Alaska Magazine where someone wrote about our snowmachine trip over Rainy Pass… it was quite an adventure and worth looking up it you can.   You can see more of the types of photography I shoot all year at: www.schultzphoto.com  "  I can't wait to read more about the snowmachine trip- how about you? 
Jeff sounds like an exciting guy who has lots of adventures.  I want to thank him for this interview and (the most exciting thing of all) allowing me to use a couple of his photographs with my daily race updates.  It will be a wonderful addition to the updates. 
Have a great time out on the trail Jeff!
Gypsy
 Here are some of Jeff's favorite pictures: