Hi Boys and Girls,
While we're wating for the Finishers Banquet tonight, let's find out the difference between the Red Lantern and the Widows Lamp. I use to think they were the same thing. I was so surprised to find out they are 2 different lamps. They have similarities as they are both related to the last musher to reach Nome.
Widows Lamp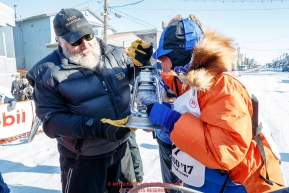 The Iditarod Trail Committee lights a "Widows Lamp" on the day of the Restart of the race. This year it was lit on Monday March 6th. They hang it on the Burled Arch and it stays there, lit, until the final musher crosses the finish line. Once the last musher is in, it is extinguished. This year Cindy Abbott was given the honor of blowing it out after she crossed the finish (picture on left). The practice of the Widow Lamp came from the days of the Gold Rush when dog sleds were used to move mail and freight. Each roadhouse along the trail would light a kerosene lamp and hang it outside the roadhouse to help the mushers find their way in the snow and darkness. It was also a signal that there was a dog team out on the trail.
Red Lantern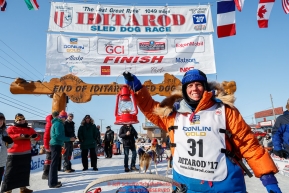 The Red Lantern started as a joke in 1953 during the Fur Rendezvous Race. When the Iditarod started some 20 years later it adopted the practice of giving a Red Lantern to the musher who finishes last. It is a symbol of perseverance and mushers feel a sense of accomplishment and pride when receiving it. For them it means they accomplished a goal that they have worked years to achieve.
Hope that helps you understand the difference. So there are two lanterns with two very different reasons for being there.
I'm off to check out the food for the mushers banquet tonight. I hope they have some of my favorites. Check back in the morning for an update and list of award winners.
See you on the trail,
Gypsy