Hi Boys and Girls,
In my morning update I gave a question of the day that I thought I'd answer in another post.  The question was "What is the Red Lantern Award and who is it given to?"  I sure thought that was going to be an easy answer.  I looked it up to make sure all my facts were correct and guess what? I didn't. I learned something new today.  Yep, even old dogs can learn something new. 
First, the Red Lantern Award is given to the musher who crosses the finish line in Nome in last place.  That was easy- so what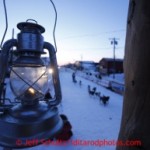 did I learn. I learned that I had the history of the Red Lantern Award confused with the Widows Lamp. I thought the Widows Lamp and the Red Lantern Award were the same thing.  The Iditarod Trail Committee lights a widows lamp in Nome on the first Sunday of March, the day of the restart. They hang it on the Burled Arch and it stays lit until the final musher crosses the finish line.  It is then extinguished. This practice came from the days of the Gold Rush when dog sled teams were used to move freight and mail.  Each roadhouse along the trail would light a kerosene lamp and hang it outside the roadhouse to help the mushers find their way in the snow and darkness.  It was also a signal that there was a dog team out on the trail.  The lamp was extinguished when the dog team safely reached its destination.  (picture by Jeff Schultz of the Widow's Lamp hanging from the Burled Arch in Nome)
So what makes the Widows Lamp different from the Red Lantern.  The Red Lantern Award started as a joke in 1953 during the Fur Rendezvous Race.  It then was passed over to the Iditarod.  Today, it is a symbol of perseverance and mushers feel a sense of pride and accomplishment when receiving it.
Do you understand why I was confused?  I've heard many people are confused and think they are the same thing just like I did. 
I hope you learned something new today.  Stay tuned for this evenings update.  More mushers have arrived in Nome.  I can't wait to see who receives the Red Lantern Award.
Later,
Gypsy