Hey Boys and Girls,
It's summer!!!! Time for playing, swimming, extra sleeping, maybe camp, lots of fun and adventures! I love adventure. There's always something new to learn and see. Have you gone on an adventure this summer?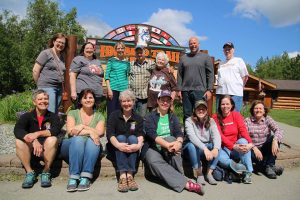 A group of teachers went on an adventure this summer. They packed up there suitcases and went to Alaska for a fun 10 days at the Iditarod Summer Teachers Workshop. They were so busy! They camped at the Dream a Dream Dog Homestead. While there, they did dog chores, took training runs, learned how to bootie and harness the dogs and played with puppies. Who wouldn't want to play with puppies? They also had workshop sessions with mushers, authors, race volunteers, and from other teachers. They also went on field trips like to the glaciers. They ended their time going to the Volunteer Appreciation Picnic and Musher Signups. It sounds like they had a great week.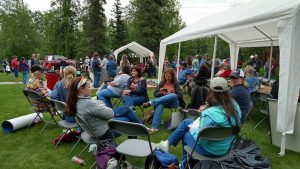 Saturday was the Volunteer Appreciation Picnic and musher signups at Iditarod Headquarters. The picnic is to honor all the volunteers that help make the race successful. The highlight of the picnic is the musher signups. It's the first day the mushers could sign up to run the 2018 race. Thirty-one mushers signed up at the picnic. If a musher wants to sign up and is unable to attend the picnic, they can send their entries in by mail or with another musher. Twenty-one mushers signed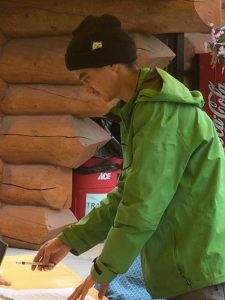 up this way for a total of 52 mushers. Since Saturday, two more musher have signed up bring the total to 54. Mushers are able to sign up until midnight December 1, 2017.
If you would like to see who has already signed up, you can go to: http://iditarod.com/race/2018/mushers/
You can check back at the site often to see who else has signed up.
Enjoy the rest of your summer.
See you on the trail,
Gypsy