The countdown on the Iditarod homepage finally reads "0 Days", which means Race Day is here! The mushers are prepared, Covid screenings have been done, and the race is only hours away. Aaron Peck, wearing Bib #2, will have the honor of leading the charge down the trail at approximately 2:00pm AKST. Mushers will then leave in 2 minute intervals until the last team led by Victoria Hardwick wearing Bib #48 leaves the starting line. Check the list of mushers here to find their bib numbers in order to track your favorites during the race. https://iditarod.com/race/2021/mushers/list/
*As an update, Sean Williams has withdrawn from the race according to Greg Heister on the live broadcast this afternoon.*
Deshka Landing is this year's setting for the start of the race. The serene, picturesque backdrop of Denali is the perfect place to begin Iditarod 49. Today's forecast is for beautiful clear blue skies, and temperatures in the low 20s.
Over the past few months we have talked a lot about how this year's race will be different, but as Doug Swingley pointed out during the "Champions Panel" last night, aren't they all? The trail changes every other year, alternating between the Northern and Southern routes. There have been Fairbanks starts, checkpoint changes, and appearances by the ultimate agent of change: Mother Nature. One could argue that the race is different every year, though no one can argue the fact that Covid has definitely created new challenges and changes. 
The change and the unknown is what makes Iditarod special. 
This year is just lining up to be extra special.
Another change for this year is how I will be reporting to you from the trail. Due to the many unknowns and safety concerns surrounding Covid, I will not be on the trail in person this year. Instead I will be here in Ohio following the race with my class. I will still be reporting daily, but as we have done most things this year, virtually! Click on the video below to see what to expect in the coming weeks.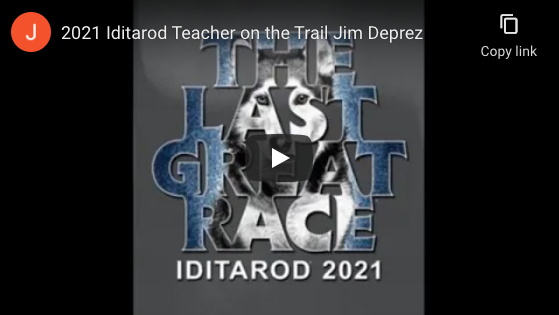 Each day that school is in session, I will have 2 students reporting from "the trail". One will give race updates as mentioned, and the other will share about something we have done in class. There are so many activities, projects and opportunities for students to practice educational standards while learning about the Iditarod and these reports will provide an insight into some of the things I am doing with my students this year. I hope you enjoy this new spin on trail reporting!
One theme that will be present throughout my coverage over the next few weeks will be common questions from my students! Every year that I have taught the Iditarod with my students there are always some common questions that come up every year, but there are always some surprises as well. I will be sharing some of these with you each day to help you answer some of the questions that might come up in YOUR classrooms.