Tails from the Trail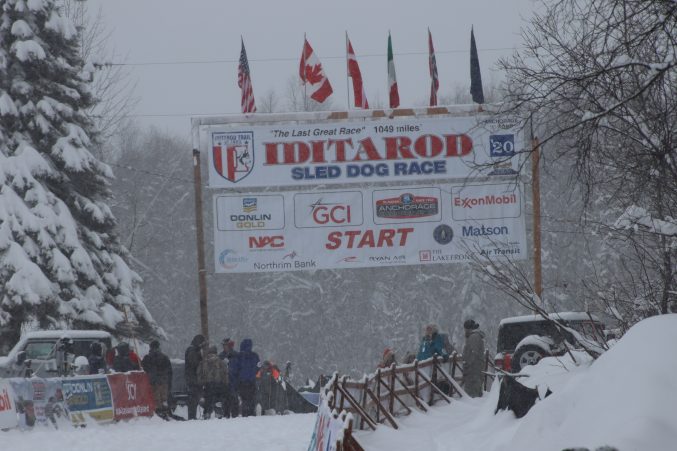 Snow was falling, the temperature was perfect, and the sounds of dogs barking and howling filled the air. The stage was set for the Re-Start of the Iditarod Trail Sled Dog Race, and it doesn't get much better than this! 
The talk of the morning was the snow.  The incredible amount of snow on the ground and continuing to fall in Willow and along the first part of the trail.  I was told today that the mushers will find 6 feet of snow in McGrath. How will the snow affect the race? It certainly can slow the trail down quite a bit.  Already, on the tracker, we are seeing that the mushers are moving at a slower pace than last year by about 2 mph.
With all the mushers out of Willow, the journey begins along the trail.  The first stop for these mushers is Yentna Station.  Yentna is 53 miles from Willow, and the mushers will make it by this evening.  The checkpoint is at Yentna Station Roadhouse the home of Dan and Jean Gabryszack.  From there, they will follow the Yentna River until it meets the Swentna River.  There the mushers will reach the 90-mile mark at the Skwenta Checkpoint.  You can follow your favorite mushers as they begin their journey along the trail at the Iditarod homepage.
A Tribute to Perseverance
Which mushers were invited to Washington DC for President Reagan's Inauguration?  Joe Redington, Sr., Herbie Nayokpuk, and Col. Norman Vaughan represented Alaska on January 20, 1981, in the inaugural parade for President Ronald Reagan. There is a story that states that while in Washington DC three dogs were stolen from them.  Luckily all three were found before the parade began.
Teachers: Check out this lesson, from Heidi Sloan 2018 Teacher on the Trail, to introduce some creative writing around the stolen dog incident.