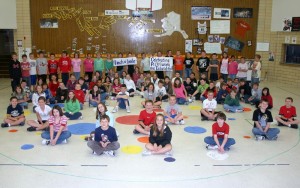 Enjoy this  math activity article written by Annalise Lecher.  We did the activity in the 4th Grade accelerated math class I teach.  Students created an example of the Iditarod Trail in circular form.  
The picture is  of the entire student body in our Central Gymnasium taken on March 20th, during our "Iditarod Central" Day!
Judi
Nebraska
PDF Document:  Click here to view the lesson summary that was sent to us!
Original Posting Date:  Mar 30, 2009