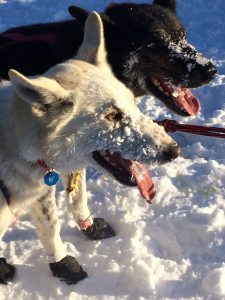 Have your students gotten interested in the card game Top Trumps? It's a quick and easy card game that just so happens to work on place value skills while playing! There are decks published on topics ranging from animals to presidents to Harry Potter!
Why not harness the love for that game and combine it with the love (and data!) of Iditarod?
In this lesson, kids create Top Trumps cards for their mushers instead of the more traditional Musher Trading Cards. The class then learns about the Vet Book as they use the dog tags and vet book pages in a Scoot activity that uses the Top Trumps cards to review place value skills!
Download Card Template here
No time to have your kids make the Top Trump Cards? Here are some cards from the 2018 race!  Just print, cut, and go! 2021 cards coming in January!