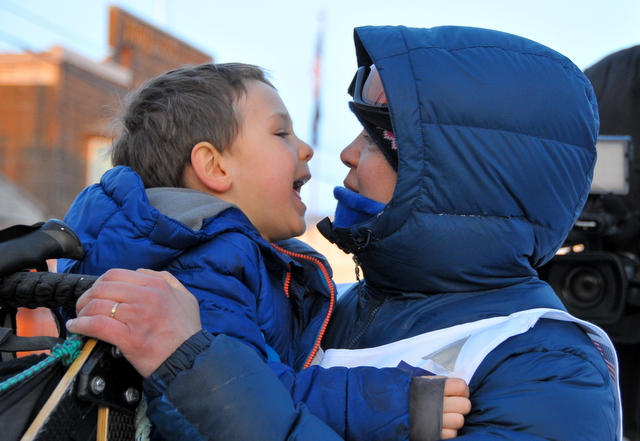 One of the moments I see at the finish that puts a big smile on my face, besides the dogs, is when families reunite. It is a rough couple of weeks for mothers, wives, husbands, and children while their family member is out on the treacherous Iditarod trail. There is absolutely no contact made during this long wait. All they can do is follow the green flag along the trail on the GPS tracker. It can be a long and stressful couple of weeks.
When the siren is sounded notifying us someone is almost to Front Street, family members anxiously stare down the chute waiting for the moment they can hug their husband, wife, mom, dad, or any family member. As their musher nears the Burled Arch you can see a smile so bright it lights the darkened sky. You can see in their eyes how proud they are of their family member.
The best is to watch young children greet their parents. Becca Moore's children cheered for her and the dogs on the street as she mushed down Front Street. As her son saw her for the first time in 12 days, he shouted, "MOMMY!" with the biggest smile. Big hugs were shared and pictures were snapped. The kids rode with mom on the sled to the dog lot. It was such a touching moment to witness.