Join us for an Iditarod Art Exhibit!
Create an art project.  Take digital images of the project and email the image. The art work will be a part of our Virtual Art Show!
Get out your sketch pad, your markers, paint, crayons, or chalk. Sculpt, create, build, and design.  It's time for you to get creative and share your Iditarod art work with others!
The project your students do can be any kind of project from sketching to painting to clay.  There are 1,049 or more ideas out there and we're challenging you to be a part of an on line art show by sharing your Iditatrod art projects with the world and viewed at Iditarod's Education Portal!
So, get creative!  Draw. Sculpt. Cut and paste.  Paint.  Share Iditarod through any medium of art that you choose.
Then take digital images of art work.  Send the digital image in an email to us.  We'll post the entries for students and families to view.
Here is an idea to get you thinking!
Decorate a Husky!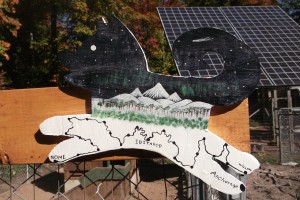 Nature's Kennel invited fans to decorate a husky as a part of a fund raising project, but you can do a similar project at your school.
Take a look at this project from Nature's Kennel. Follow this link to Nature's Kennel.  Ed and Tasha Stielstra have an educational program and provide school presentations.  You can learn more about their school assemblies at this link.  Teachers, take note, each year, there is an Iditarod Teacher workshop held at the Midwest Sled Dog Symposium.  Contact Tasha at their website for details and plan on joining us in Michigan next September!
This project can be geared to your classroom and student ability level.  Huskies can be created from Styrofoam, cardboard, wood, or whatever you want to use.  Nature's Kennel created the husky templates out of wood and painted each husky white.  Participants in their 'contest' then created their own design on the husky.
Husky Graphic to use in this or similar projects.
Project samples: