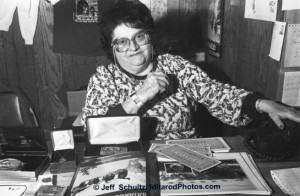 On May 1, the late Dorothy Page,  the "Mother of the Iditarod" was inducted into the Alaska Women's Hall of Fame. Dorothy, a journalist and historian, wrote and published the "Iditarod Trail Annual" during the early years of the Race. 
In 1964, Dorothy had a great idea!  As chairman of the Wasilla-Knik Centennial Committee and working on projects to celebrate Alaska's Centennial Year in 1967, she suggested the possibility of a race over part of the Iditarod Trail in celebration of Alaska's Centennial celebration.  Her ideas for the centennial and Joe Redington's ideas for a long distance race paved the way for "the Last Great Race on Earth®"
In 1978, Dorothy was instrumental in making it possible for the opening of the very first Iditarod Trail Committee office. 
Having grown up in Michigan and Minnesota, and living elsewhere in the lower 48, Dorothy and her husband, Von, ended up in Alaska in 1960.  Dorothy was very active in public service projects including preserving the history of Alaska.  She became active in local politics and served four terms on the Wasilla City Council and was mayor as well.
The museum in Wasilla was named in her honor.
A copy of "Iditarod – The First Ten Years" can be purchased at our online store.
*Resource:  Iditarod – The First Ten Years