The population along the Kaltag to Unalakleet portage trail exploded over night. Looking at the Ionearth tracker, that area of the trail held the largest concentration of dog teams compared to anywhere else on the trail. As the mushers made the coast today, we heard one common comment – it was cold.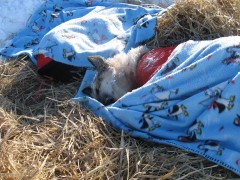 Iditarod veteran, Ed Stielstra, said the combination of the trail and the temperature was really tough. Sometimes it was frigid and then, it would almost feel warm but then in no time it'd be back to frigid. Stielstra lost one of his heavy super warm mittens on the trail. He really had to improvise to keep his thinly gloved hand warm. Kelly Griffin was Stielstra's savior – she found the wayward mitten on the trail and carried it into Unalakleet where needless to say she made Ed's day. In the checkpoint as temperatures warmed and the sun shown brightly, Stielstra's dogs slept under fleece Penguin blankets made by his mother.
Speaking of Kelly Griffin, she wore her usual smile while enjoying breakfast inside the checkpoint. Having talked with Kelly at McGrath, I wanted to know how the next 300 plus miles had been for her team. Kelly said the dogs were really jazzed for the first third of the race and for now have lost some of their enthusiasm but are still running nicely. Running along the coast might revive their enthusiasm. Cold has enveloped the mushers since making the Yukon River at Ruby. Having run the Yukon Quest multiple times, Kelly was saying she never minds the cold, it's the wind she doesn't like.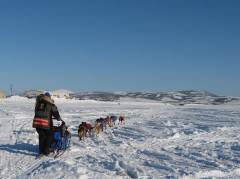 Colleen Robertia was very glad to reach Unalakleet this morning. She'd decided to carry one of her dogs into the checkpoint – a big dog. It made the trip on the portage trail quite a bit harder. She was tired and decided to stay in Unalakleet for eight hours – a good rest in a comfortable place for athletes and coach. Robertia was happy with how her dogs were running but she was looking forward to making Nome. Her theory was to mentally tackle the remaining 300 miles to Nome one run at a time. It's easier mentally to think of six fifty-mile runs compared to thinking of the whole distance. For Colleen, the sum of the parts will equal the whole and make it more attainable. On the way in from Kaltag, Robertia dropped her ski pole. Newton's law of inertia crossed her mind – a body in motion remains in motion, a body at rest remains at rest… Thinking about what it would take to get the sled moving again after stopping to recover the pole, she decided to leave the it behind. Mike Santos saw it along the trail, picked it up and delivered it to Colleen once he made the checkpoint. Getting the pole back seemed to be a good omen for Robertia as she started up the coast.