Ivedi isn't as well known as Balto, Togo or Granite but none-the-less, she's our hero. Locally known heroes like Ivedi are very real and very important. You and your classmates undoubtedly have included famous people on your list of heroes and heroines but don't forget about folks in your family, community or school who have done great things or lived an exemplary life and are worthy of "hero" status.
Ivedi was born in Susan Butcher's Trail Breaker Kennel in Fairbanks, Alaska. She was raised and trained by Susan until the age of two. Her bloodlines can be traced back to Granite. Wanting to purchase a dog of good ancestry, our musher called Susan who said, "I have the perfect dog for Just Guts Kennel, her name is Ivedi." When the time was right, she was bred and then flown to Wisconsin – all by herself in a kennel in the belly of the plane. A few weeks later, Gabe, Holstein, Tundra, Tikchik, Baffin and Morgan were born. Ivedi nurtured and trained those pups along with later arrivals, Mr. Blue, Trego, Bootleg, Bosca, Bill T, and Curly. They all turned into speedy, devoted, dependable, dedicated, handsome sled dogs.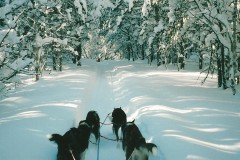 It was common for the Just Guts team to go up to northern Minnesota to run and camp out in the Boundary Waters or cross into Canada and camp in the Quetico. Often a bunch of teams would all run and camp out together. On one trip, they ran about 30 miles out across frozen lakes and portages and then set camp up for the night. It began to snow and by morning, their trail was covered. When it was time to head back to the trucks, some of the mushers were uncertain of the direction. All the bays looked the same, all the islands looked the same and all the distant hills looked the same. With snow falling there were no prominent landmarks. The mushers studied their maps and read their compasses and thought they knew the way back but they weren't certain. They decided to put the Just Guts team with Ivedi in lead up front. Trusting her nose and sense of direction was the right thing to do. Without faltering, she led them back to their vehicles. Who needs a GPS when you have a great leader like Ivedi? Susan would have been proud!
At the age of 14, Ivedi retired from distance running but she continued to train pups like me. She taught me almost everything I know about being an outstanding sled dog and a great leader. Ivedi was the matriarch of the kennel – the alpha dog of our pack. She lived to run. Ivedi earned our respect and admiration because of her work ethic, natural ability, gentle nature, intelligence, athleticism, devotion, and leadership. Faithful friend and sturdy shelter perfectly describe Ivedi, our beloved and hallowed hero. What a dog!
Stay tuned to learn about why we chose DeeDee Jonrowe to be on our list of Heroines. Remember – when you are faced with a problem, be creative and do your best to turn it into a solution.
Born to Run,
Sanka