If you've gotten a baby brother or sister, a puppy or a kitten, there's always the question of what should it's name be. Do you remember the process of selecting a name? The name has to "fit" and it has to be just right. Maybe you used a book or maybe the name came from a person, place, thing, or maybe an ancestor. It probably took a long time to decide.
It's hard enough to name one young-un but put yourself in a musher's mukluks. What would you do to name multiple pups of multiple litters born in one year? What you need is a THEME!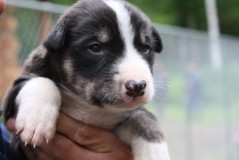 Take for example musher, Vern Halter up there in Willow. In the past year his dogs have whelped four litters. The batch born last August was given tool names – Level, Pliers, Plane, Saw, Hammer, and Wrench. The bunch born last December took on boat names – Yacht, Kayak, Canoe, Dory, Barge and Sloop. The litter born at race time were named for nuts – Peanut, Walnut, and Chestnut. That brings us to the next litter born in early June who took on Toyota names. You might ask why would anyone name sled dogs Camry, Corolla, Rav, Matrix, and Yaris. Well, the pups were born in the back seat of a Toyota while Mama was on her way to the vet. The most recent litter didn't even have their eyes open yet during Summer Teacher's Camp. Those five pups will take on school related names – Book, Eraser, Chalk, Pen, Marker, and Ruler. They can thank the teachers at camp for that idea. The next litter due later this summer will take "meat" names – Sirloin, Mignon, Ribeye, Flank, Roast, Fillet or Burger. So when talking about which pups to take for a walk or out for a training run, you'd say the "Boat" group, the "Nuts" or the "Toyotas." This theme business is a lot of fun.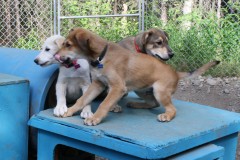 DeeDee Jonrowe chose "games" as a theme for her latest litter. The gamely youngsters answer to Domino, Clue, Scrabble, Twister, Checkers, and Solitaire. I'd have picked Yahtzee.
The puppies at Iditarod Headquarters on the day of the Volunteer and Musher Signup Picnic were named Kuskokwim, Tustumena, Kobuck, Copper, Yukon, Klondike, Knik, and Willow. Can you make sense of these names? Their musher selected the theme of local sled dog races.
There's a litter belonging to a Skwentna volunteer with a Japanese nature theme – Miyuki (quiet in deep snow), Taki (waterfall), Kaze (wind), Yashi-No-Mi or 'No-Mi (coconut), Eewa (boulder), Yama (mountain), Karasu (raven), and Harinezumi or 'Zumi (Hedgehog). I wonder what the Japanese terms for gee, haw, hike, and whoa are.
There you have it – a fun story about naming litters of sled dog pups – pups that may very well run to Nome in the not too distant future. What themes would you suggest to a musher naming a litter of puppies? How about Sandwiches?  Check out the origin of your name. It's bound to be interesting.
Born to Run,
Sanka