So much is happening in UNK and so little time to see it all and share. While the morning dawned quite clear, fog rolled in periodically during the morning. There's a bridge about a mile from the checkpoint that the mushers pass under as they head to Shaktoolik. It's a nice walk on a pleasant day so when there are three or four mushers booting at about the same time, it's time to make the trek. Note by the pictures how much the ground visibility changed in just twenty-six minutes when Robert Redington departed and Lars Monson departed.
Robert Redington is making his second attempt at Nome. Coming to Unalakleet is a sort of homecoming for Robert. His mother, Barb (Ryan) Redington, lived here as a youngster. Robert has plenty of aunts, uncles, great-aunts and great-uncles living in the community. Today as Robert prepared to depart, Uncle Glen Ryan was working the checkpoint. Glen was happy that his nephew was at mile 718 and he'll be very proud when Robert makes Nome. Robert departed for Shaktoolik at 11:55 after resting 5 hours and 15 minutes. He made the run from Kaltag in 10 hours and 8 minutes (8.39 mph).  Robert is looking a little thin.  He just laughed and said it was less weight for his dogs.
Katherine Keith is leaving Unalakleet with nine dogs. It wasn't going to take her long to boot so I didn't waste any time in making my way to the bridge. With all the fog of the past couple of days, Katherine said she stayed here a little longer than planned to dry her outer garments out. The ice fog settles on the mushers and everything becomes damp. Katherine took advantage of the checkpoint to dry her clothing out. Her team was enjoying the morning sun before the fog rolled in again. She's got a big white dog named Shadow. Shadow looks very handsome in his red harness. Keith describes Shadow as a big Teddy Bear sort of dog who works hard and enjoys a good love up. She left Unalakleet at 12:00 after resting 3 hours and 40 minutes. Her run in from Kaltag took 14 hours and 5 minutes (6.04 mph).
Hugh Neff arrived in Unalakleet at 08:08 Monday and departed at 12:14 after resting for 4 hours and 6 minutes. His run in form Kaltag took 12 hours and 29 minutes (6.81 mph). It's interesting to look at the mushers who decide to break up the 90-mile distance from Kaltag to Unalakleet with a long rest and those mushers who leave the Yukon with a well rested team and take short breaks along the trail to the coast. Hugh is one who camped along the way. There are years when the temperature really bottoms out coming over land from Kaltag. While the mercury fell to below zero, it wasn't bone chilling cold last night.
The fourth musher who passed under the bridge this right after noon was Lars Monson. Monson arrived in Unalakleet at 10:00 this morning, stayed for two hours then departed for Shaktoolik. His run time from the Yukon village of Kaltag took 14 hours and 13 minutes (5.98). He camped on the inbound trail so opted for a short rest before pushing on up the coast. There is no wind today in Unalakleet but the same may not be true in the Blueberry hills as Lars travels to Shaktoolik. Lars completed his first Iditarod in 2016, finishing 29th. Monson was born in Oslo, Norway. He's been mushing since 1997. He's competed in the longest sled dog races of Norway. By profession, Lars is an adventurer. He's spent more the 4,500 nights in a sleeping bag with more than half being in extreme weather conditions. His list of expeditions is very extensive and impressive. Lars is a television producer and author. Of further interest, Lars has a sled bag made of fabric that looks like wax paper. It is extremely strong but see through.
Still resting on the slough is Ken Anderson. Ken has sixteen Iditarod starts and sixteen finishes. His best finish is 4thn and he's had 6 top ten finishes. Ken has had his eye on the Iditarod ever since 3rd grade when his father bought him a book about the race. Ken moved to Alaska from Minnesota in 1993 to learn more about mushing and study biology at the University of Alaska – Fairbanks. Ken's wife, Gwen Holdman is also an Iditarod veteran. It was Ken's cooker that caught my eye this morning. This one was uniquely designed to bring more heat to the center of the water, not just to the bottom. Seems many school STEM projects are based around building a better sled. How about a new STEM project of building a better cooker?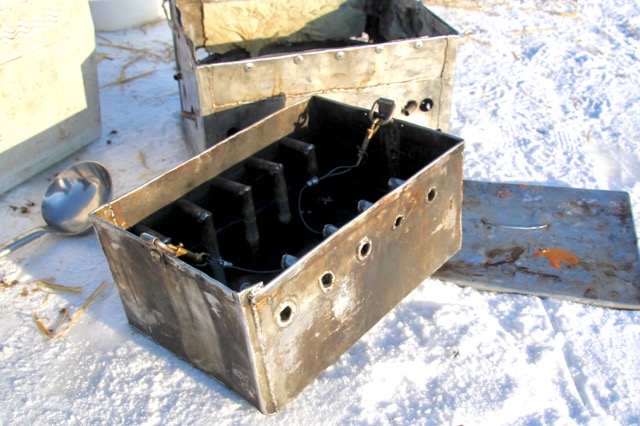 Eye on the Trail concentrates on sharing stories from the back of the pack. Being able to do that depends on being on the ground with the back of the pack. I was in Nenena the first night of the race then moved to Tanana. Moving down the trail with the Iditarod Air Force is priority based and depends on weather and space available. Personnel can be bumped from an IAF flight at a moments notice by a dog or a higher priority passenger. From Tanana I was flown to Huslia. I was in both checkpoints for the leaders but stayed a couple of nights to catch the middle to back of the pack mushers. With weather concerns I was flown into Unalakleet ahead of the first musher but am staying here for several days. I'll get to Nome sometime after the Champion is crowned. While I'd like to always be at the back of the pack, it's not always possible so I try to do the best I can to bring the race to you from where ever I am.