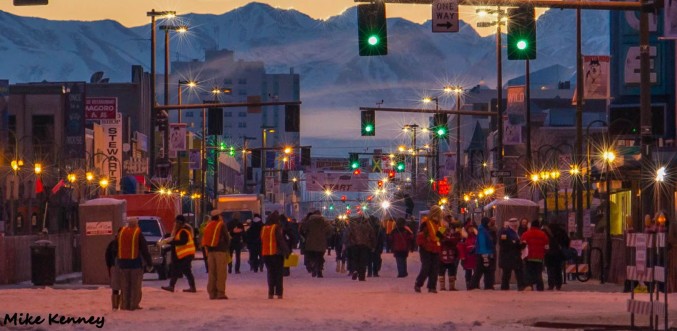 2022 Volunteer forms coming soon.
For more information about volunteering, contact Chas St. George at chas.stgeorge@iditarod.com.
Thank you for your interest to become an Iditarod Trail Sled Dog Race Volunteer!  There are a variety of volunteer opportunities involved with the Iditarod Trail Sled Dog Race. Your contribution to The Last Great Race on Earth® is vital to the sustainability of the organization. If you are a volunteer and not an ITC member, we would encourage you to become one. Your membership keeps the heritage and tradition of the Iditarod Trail Sled Dog Race alive for future generations to enjoy. 
Volunteer Registration Form – Start, Restart, Trail, and Other
Volunteer Registration Form – Finish/Willow
---
Application Information
Read all of the information on this page before filling out a registration form.  We require a registration form to be filled out for each individual volunteer. List only one volunteer per form even if the information is the same for multiple volunteers. Volunteers must be at least 18. Please fill out a registration form only one time per person. 
All volunteers registering online will be entered in our database and receive important information about volunteering, the race, special events, as well as other information through our newsletter system as well as by email from coordinators.  If you are a new subscriber to our newsletter and wish to not receive newsletters from us, you may unsubscribe to our newsletter, but you might miss important information that you'll need to know about volunteering.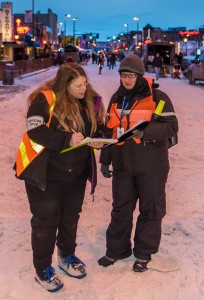 After registering, you should receive a confirmation notification from Iditarod Insider. If you don't get that message within a few minutes, check your spam/junk mail. You might need to approve the sender (insider@iditarod.com). You are considered an official volunteer after you have been contacted by a coordinator and agreed to the schedule or job assignment. Don't wait to make travel plans, especially if you are planning to be at the race this year no matter if you volunteer or not, especially if you hope to volunteer in Nome.
All volunteers are required to pick up race credentials and sign a release form before checking in with individual coordinators for assignments. Preference for several volunteer assignments are reserved for ITC Members only and/or volunteers with experience in specific areas. Consider becoming an ITC member if you are not a member or renewing your membership PRIOR to picking up your race credentials.  There is a mandatory $10.00 registration fee for volunteers who are not ITC members. This ensures that all volunteers have coverage under the insurance plan, described below.
The ITC secondary accident insurance plan provides certain benefits, including medical expense coverage, in the event that an individual is injured while performing volunteer duties/responsibilities on behalf of the race. In the event of an incident resulting in injury, immediately report to your coordinator to fill out an incident report. This must be done within 24 hours of the incident in order to be submitted to our insurance company.
The volunteer desk will be opened at the Lakefront Anchorage Hotel from late February until a few days after the start of the race. For those volunteering only in Nome, for your convenience, a volunteer desk will be set up in the Mini Convention Center. Nome volunteers need not register at the Lakefront registration desk.
The Lakefront Anchorage is the Race Headquarters during the race.  We recommend volunteers and visitors stay at the Lakefront Anchorage. The ITC doesn't pay for volunteer transportation or lodging. 
---
Race Headquarters at the Lakefront Anchorage Hotel
The Iditarod Official Race Headquarters during the majority of the race is the Lakefront Anchorage Hotel (formally the Millennium), located at 4800 Spenard Road, Anchorage, Alaska. The Lakefront is the hub of all Iditarod activity before teams begin arriving in Nome. When you click on the volunteer form, you'll find a number of volunteer activities that take place at the Lakefront. You may want to consider volunteering for more than one activity.  We ask that you number your choices in order of preference.
Volunteer Registration Desk –

As volunteers come into the Lakefront Anchorage Hotel for the first time, they need to check in at the Volunteer Registration Desk to confirm their volunteer information and receive their credentials. A team of three people per shift, (4 hour shifts) will be needed beginning late Feb. through March. The desk will be open from 9 a.m. to 7 p.m. daily. Volunteers need to be comfortable with a computer for data input and provide volunteers with assistance in a professional manner.  Training for the registration desk will be provided during the first shift.
Call Center Volunteer

– Our call center serves as a customer service opportunity as well as an opportunity to help race fans with questions that they may have about the race. Along with helping troubleshoot Insider and website questions, volunteers answer questions about the race, the mushers, and other Iditarod related topics. The Call Center begins its activity during business hours the week before the race. On the first Saturday in March, volunteer activity ramps up considerably with as many as seven volunteers manning telephones and computers per shift around the clock. This activity lasts for two weeks or a little longer.  All volunteers are provided with training, resources, and information to assist them in their job. Shifts are usually four hours each. Training for volunteers will be announced in the fall. Please plan to attend the training session. Your time spent training will help you function in a confident and business-like manner.
Anchorage Network Center – Volunteers in the Anchorage Network Center (ANC) work with Trail Comms personnel to collect, input, and disseminate race information. You must have a working knowledge of Microsoft Office programs (including Outlook and Word). You also need to use clear and succinct telephone skills, especially when calling remote checkpoints. Looking for persons organized, responsible, dependable, detail-oriented, and team players. Accurate data entry is essential in this job. Additional duties include setting up race computers in the hotel and limited troubleshooting. If selected, you will attend a 3-hour training session the week before the race. Work begins on Restart day and continues 24 hours a day until the last team arrives in Nome. Six-hour shifts begin at 6 a.m., noon, 6 p.m., and midnight.

Race Communications –

Race Communication volunteers collaborate to collect race information, such as checkpoint times and dog counts, and make it ready for publication. Volunteers may work in the hotel, at a checkpoint, or in both places.
---
Trail Position
Trail positions for volunteers are based mainly on skill sets and experience. Please take a minute and read the information on the registration form. Trail positions require a high demand for physical activity. If you would like to apply for a trail position, please check that box and we'll talk to you about it, but know that most trail positions are filled with returning volunteers.  (IF you are registering for COMMS you do not need to check Trail Position on your registration form.)
Membership Form – Membership required for all trail positions
Trail Comms  – Trail Comms personnel are experienced Anchorage Network Center veterans. They are available to work in cramped and austere conditions for up to 14 days at a time with limited sleep or other creature comforts. Volunteers are physically fit enough to travel by small plane and perform heavy labor tasks in setting up and running the checkpoint. They are experienced users of Microsoft Office (including Outlook, Word, and Excel) and are organized, responsible team players. Trail Comms volunteers will attend a 3-hour training session the week before the race begins, have a current Iditarod membership, and possess a Dog Handler card.
Veterinarian Assistants – The Iditarod veterinary staff is comprised of volunteer veterinarians from around the world. Requirements for participation include a minimum of five years of practice experience in small animal medicine and surgery, fluency in English and sufficient health to withstand working in arctic conditions. Previous experience with the sled dog athlete is highly desirable.  This includes the tech team that works on pre-race exams and in the checkpoints with returning dogs, returned dogs at the Lakefront, chip readers at the start and restart, the p-team, and veterinarians. Should you be interested in a volunteer job in this area this year or in the future, please fill out the registration form, check return dogs as an option, and indicate in the additional information section your interest and experience.  In the event that there are openings in this area now or in future years, we'll be sure to contact you.
---
Anchorage Ceremonial Start

Musher Parking – Saturday morning, 5 – 9 a.m., Assist with Musher Check-in, and assist Mushers in locating their staging/parking place.
Trail Guard – Public Relations/Safety – Positions available from 4th Ave to BLM Headquarters. Duties include keeping trail clear of pedestrians; adding snow back to the trail at roadway/trail crossings.
Security – Public Relations/Safety,  Duties include keeping public separate from race participants, staffing public crossings of staging areas and keeping the trail open within the staging area.
VIP Liaisons – Public Relations, Assist Idita-Riders and family members in locating their mushers. Provide escort to Public Officials and Honored Guests.
IditaRider Volunteers to assist with a wide variety of areas surrounding this program.
Dog Handlers – Special training & certificate required. Additional information and an opportunity to sign up for the Dog Handler Class is provided on the volunteer form when you register. Volunteers must be physically fit.  Volunteers will assist mushers from parking space to Starting Line on 4th Ave.
Assist wherever needed.
End of Anchorage Start at the BLM – Volunteers are needed in multiple positions: Dog Handlers, Security, Trail Guard and VIP Liaison. Volunteers should be familiar with Anchorage and have transportation.
Willow Restart



Load Truck – date TBD – Storage Facility in Wasilla
Unload Truck – Set Up on Saturday (most likely late afternoon / evening)
Set Up Sunday Morning
These areas Involve loading all equipment and fencing at the storage facility and transporting it by truck to Willow and unloading it. This takes places on Saturday. The equipment is then reloaded onto the truck on Sunday evening after the event and transported back to Wasilla, where it will be unloaded and returned to storage Monday morning.
Early Morning Setup/Musher Parking – Provide early morning security and assist Mushers in locating their staging/parking place. Includes assembly of fencing to secure staging and chute areas as well and set up of other equipment required at the event. These activities may occur on the day before or the early morning of the Start and/or Restart.
Cooks (Sunday)  Grill burgers for volunteers
Staging and Chute – Assisting with staging and working in the chute.  Most volunteers in this area have done this in previous years and have been pre-selected by the coordinator.  Due to the experience level necessary for this position, only indicate this area on the form if the coordinator has approved you for this job assignment and/or you have worked this area a previous year.
Trail Guard – A trail guard is an individual that would be placed at a street or road crossing to control vehicle as well as pedestrian traffic. These locations typically are somewhat further away from the re-start line. The goal being to ensure the safety of both dog teams as well as spectators. Requirements may include the ability to walk through deep snow or lift and carry heavy objects or add snow back to the trail at crossings.
Security – Public Relations/Safety -Typically positioned at public crossings in and around the chute and staging area. Their goal is to keep the public separated from the competitors, controlling the flow of spectators passing through those crossings, maintaining the integrity of fencing, and keeping the trail cleared for the competitors.
Traffic Control/Parking
Dog Handlers – Volunteers must be physically fit and will assist mushers from parking space to Starting Line.  Dog handler's card is required. Additional information and an opportunity to sign up for the Dog Handler Class is provided on the volunteer form when you register.
Tear Down – Evening
Nome 
If you would like to volunteer in Nome, please make your lodging arrangements well in advance, don't wait until a coordinator contacts you. Iditarod does not arrange or provide lodging.
24 Hour Office Help: taking messages, answering phones, keeping track of mushers, and taking care of necessary behind the scenes details.
Dog lot
Chute security & crowd control
Banquet set-up
Banquet worker
End of race tear down
Finish chute set-up (need volunteers there the weekend before the finish)
---
Other Opportunities at Race Time and During the Year
Check the Calendar of Events for current dates.
Make Foot Ointment – Wasilla HQ
People Food Drop – Airland Transport, Anchorage 
Straw Drop – Airland Transport, Anchorage
Musher Food Drop – Airland Transport, Anchorage 
Hauling Food Drop Load Out – Willow Airport, Anchorage 
Media Conference – Lakefront 
Banquet Hostess — Dena'ina Center 
Unloading Trailers at ITC HQ – Dates to be announced, generally 2nd week in April
Office Help – Wasilla, ITC HQ (various times throughout the year)
Volunteer Picnic – Wasilla,  ITC HQ 
Jr. Iditarod 
 FAQ'S
After you have turned in your registration form, It may be several weeks before you are contacted by a coordinator.  Watch your spam mail or junk mail  in case an email from a coordinator goes to your junk mail instead of reaching you.  You might not be contacted by a coordinator until after the holidays.
You become a volunteer for a specific job after a coordinator has contacted you and you have accepted the job assignment.  We are grateful for the large number of individuals who register to volunteer each year.  We sometimes get more volunteers for certain areas than needed.  Signing up for several different job areas increases our ability to place you in a volunteer position.  If you aren't selected, thanks so much for registering and supporting the race.  We hope you sign up again in a future year.
If you forgot to add a work area or information to your form, please contact us to have your registration form updated  instead of filling out a brand new form.  You may also ask a coordinator that has contacted you to help you connect with other coordinators who are in charge of other areas you are interested in working.
The first place to check in when you arrive at the Lakefront Anchorage is our Welcome Center at the Registration Desk where you will sign your release form, pay ITC membership fee if necessary, pay your insurance fee if you are not a member, pick up your volunteer hat and name badge. 
You must be 18 or older to volunteer.
Sign up for dog handling only if you can easily and safely run 4 city blocks in powdery snow while holding on to a dog in the team. 

You must be able to keep pace with an energetic and excited dog team.  This job is not easy.  It's not a job for everyone!



Please note, you are not permitted to be taking photographs or video while you are on volunteer shifts.  Going live on Facebook, no matter if you are volunteering or a race fan, is not permitted under any circumstances due to copyright and media policy.  Thank you.