OFFICIAL RACE MAP 2022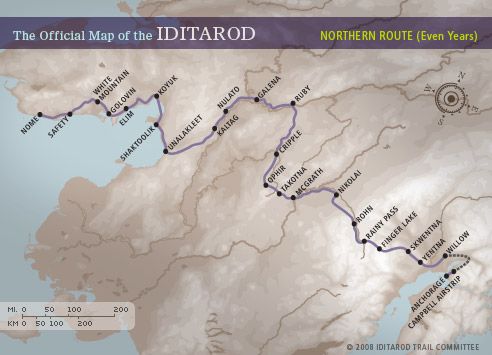 Iditarod trail route may change, based on circumstances. Find route mile details here.
2022 Race Press Releases
Thank you for your interest in covering the 2022 Iditarod. As a COVID-19 conscious organization, the Iditarod does all it can to ensure every aspect of the race, including its valued relationship with the media, is done with the highest integrity and safety-conscious efforts. The Iditarod relies on collaboration with members of the media to help tell the stories of these four-legged athletes truthfully and honoring their contributions to the state of Alaska.
Please review the 2022 Iditarod Media Guide before you apply for a 2022 media credential to cover the 50th running of the race. 
The 2022 Iditarod media credential application deadline has passed. Please reach out to Bri Kelly at media@iditarod.com if you have any questions. 
2021 Champion Summary
Veteran Iditarod musher Dallas Seavey (bib #23) of Talkeetna, Alaska, crossed the finish line of the Iditarod Gold Trail Loop in Deshka Landing with a time of 7 days, 14 hours, 8 minutes and 57 seconds claiming his fifth Iditarod Trail Sled Dog Race championship. Seavey is now tied with mushing legend Rick Swenson with five total championships.
Winning Iditarod 49 comes with a majority stake of the $400,000 purse for the 2021 race in addition to the choice of either a 2022 Ski Doo 600R ETEC SWT or 2022 Ski Doo 900 ACE SWT from Alaska Mining & Diving Supply. During this year's race, Seavey also won the Alaska Air Transit Spirit of Iditarod Award, The Lakefront Anchorage First Musher to the Yukon Award, the Ryan Air Gold Coast Award and the Northrim Bank Achieve More Award.