All media queries can be directed to media@iditarod.com
---
2023-24 Race Statements & Press Releases
2023 Race Statements & Press Releases
2023 Iditarod Media Guide – 

CLICK HERE
Thank you for your interest in covering the 2023 Iditarod. The Iditarod does all it can to ensure every aspect of the race, including its valued relationship with the media, which is done with the highest integrity and safety-conscious efforts. The Iditarod relies on collaboration with members of the media to help tell the stories of these four-legged athletes truthfully and honoring their contributions to the state of Alaska.
Please review the 2023 Iditarod Media Guide before you apply for a 2023 media credential to cover the 51st running of the race. 
---
Please CLICK HERE for the 2023 Media Credential Application and feel free to reach out to Shannon Noonan at media@iditarod.com if you have any questions. 
***The last day to apply for 2023 Media Credentials is Monday, February 27 at 12:00pm AKST / 4:00pm EST***
If your media application is approved, there is a mandatory meeting for all credentialed media, which we call 'Media Day' that will be taking place on Wednesday, March 1 at 1:00pm on the 3rd floor of The Lakefront in the Spenard Room.
---
OFFICIAL RACE MAP 2023  – FIRST RETURN TO THE SOUTHERN ROUTE SINCE 2019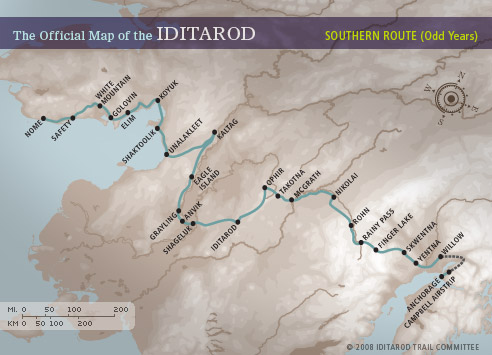 Iditarod trail route may change, based on circumstances. Find route mile details here.
---
2022 Champion Summary
 Veteran Iditarod musher Brent Sass (bib #27) of Eureka, Alaska, crossed the finish line of the 50th running of the Iditarod in Nome at 5:38 a.m. today, claiming his first Iditarod Trail Sled Dog Race championship. Sass wins his first championship in his seventh time competing. Sass had 11 dogs in harness when he triumphantly crossed the finish line to win the Iditarod 50 title in 8 days, 14 hours, 38 minutes and 43 seconds. Of course, Sass could not have made it the approximately 975 miles from Anchorage to Nome without his teammates: Slater, Pink, Garnet, Marble, Morello, Lucy, Woody, Tock, Capone, Pop, Arlo, Kutuk, Jackson and Draco.     Read full press release HERE
---