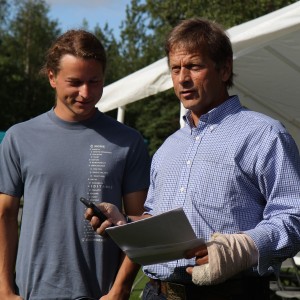 It's the last Saturday of June. Time to say thank you to the hundreds of volunteers who came together and gave generously of their time and talents to make the 42nd Last Great Race possible. There are two hundred fifty one days until the start of Iditarod 2015. Musher signup began at 09:30 at Iditarod Headquarters in Wasilla. The temperature was in the 70's, not a cloud in the sky and the winds were calm – a perfect Alaskan summer day and a perfect day to open chapter forty-three in the book of Iditarod.
The first musher to the sign-up table this morning was a smiling Rohn Buser. Ray Redington Jr. followed close behind Rohn. Martin Buser was next to arrive. From that time on until 2:30 when registration closed for the day, a steady stream of familiar faces punctuated with new faces made their way to the registration table with their paper work and payment.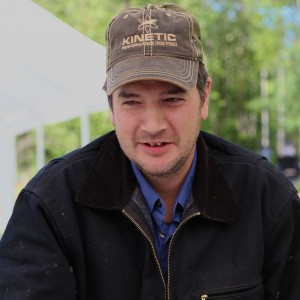 Thirty-six mushers signed up in person. Twenty-four others had sent their entry either by mail or fax. That brings the total signed up for the 2015 race to sixty. Rookies make up a quarter of the entries. Besides the United States, countries represented include Canada, Sweden, Norway and France. Besides Alaska, states represented include Washington, California, Colorado, and Montana. There are 22 women and 38 men on the 2015 roster after the first day. Sign-up will continue with the last day to sign up November 30. Names of the sixty mushers who registered today were drawn late in the afternoon to determine the order of the bib draw at the musher banquet on the Thursday evening before the race. These mushers will wear bibs two thru sixty-one. Those who enter from now until December first will wear bibs sixty-two and beyond. Iditarod officials expect a field of seventy to seventy-five mushers for the race.
Travis Beals, a two-time finisher was on hand with his fiancée Sarah Stokke. Both entered the race. Sarah seemed a little nervous but Travis was plenty excited for both of them. Martin Buser showed up with an impressive wrap immobilizing the little finger of his left hand. When he was asked about his injuries from last year – both ankle and little finger, he replied that the ankle was doing much better than the hand but after having surgery a couple of days ago, his finger will soon be fine, too. Jim Lanier is healing after his last race – ribs are doing fine but the Achilles injury continues to require physical therapy. Scott Janssen wasn't present today but has entered so one would assume he's back on both feet again. DeeDee Jonrowe wasn't present because she was out of state but has entered Iditarod for the 33rd time. Red Lantern winner from 2014, Marcelle Fressineau, signed up today, as did Yvonne Debakk. Debakk, from Norway, is working for two years at the University of Alaska Fairbanks. She'll return to Norway when her studies are finished. Yvonne and Marcelle decided they wanted to run the race together again – it had to be the year. That works nicely as they'll see both the northern and southern routes. Cindy Abbott is back to conquer the trail after being injured during her last two attempts. Technically, Cindy is a third year rookie but in my book it's all about perseverance. By the way, Abbott has climbed Mount Everest and when she finishes Iditarod she'll be the only woman to have conquered both.
Currently the 2015 field includes multiple past champions. Lance Mackey returns with four wins along with Martin Buser and Jeff King. Mitch Seavey and Dallas Seavey each have a pair. Add them up and together they have sixteen championships.  Dallas mailed his entry into Iditarod and wasn't present at the picnic today.  He'll be the second musher to draw his starting bib from the mukluk next March.
A delicious picnic style dinner was prepared and served up by race sponsor, The Golden Corral. The gang from the Anchorage dinning establishment served up Cajun sausages, pulled chicken and pulled pork on buns along with potato salad, broccoli slaw, coleslaw.  The delicious main course was topped of with the famous Golden Corral brownies. After a bit, they brought out the cotton candy machine and provided light and fluffy goodness for everyone.  Thank you Golden Corral for the fine picnic and also for your continued support of the race.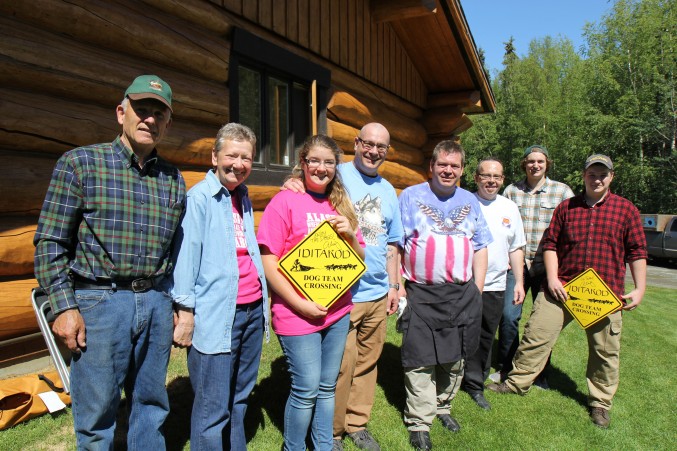 Picnic and sign-up day marks the passing of the sleeping bag from one Iditarod Teacher on the Trail™ to the next. Iditarod Education Director, Diane Johnson, introduced Jen Reiter from Maryland who served during the 2014 race and Erin Montgomery from Iowa who'll take over the duties from today until this time next year. Erin is the 17th Iditarod Teacher on the Trail™. Check out her lessons and stories on the Iditarod Education Portal.  The sleeping bag has a personally designed patch from each of the people who have served as the Iditarod Teacher on the Trail™ since 1999.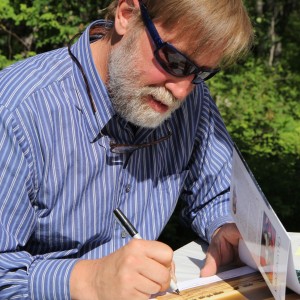 Iditarod photographer, Jeff Schultz was a very busy guy today.  With fifteen rookies signing up, he took head shots for their biographies.  Junior mushers also signed up and likewise needed head shots.  Then there were the candid shots of mushers and volunteers that Jeff is so good at.  Recently Jeff has released a new book called "Chasing Dogs."  Schultz did a book signing along with all his photo duties.  The pictures and stories are remarkable.  The book is a must have for mushing enthusiasts and race fans.  Schultz first met Joe Redington Sr, in 1980.  Joe thought it'd be a great idea for the race to have a photographer.  Schultz thought it would be the adventure he was looking for.  Jeff shot his first race in 1981 and has not missed a race since then.  He knows where the action is and over the years has captured thousands and thousands of remarkable images of dogs, mushers, villages and the great Alaskan wilderness. 
Finally, the moment every has been waiting for and anticipating – it's time for the drawings. Lisbet Norris won a food ladle, Martin Buser won 500 dog booties and Ellen Halverson won 12 dog bowls. Drum roll please! It's time to draw for the entry fees! The winners are (ddddddddrrrrrrrrrrrrr…….….) veteran Jan Steves and rookie Ben Harper! Congratulations! Ben who competed in the Junior Iditarod last year was simply grinning from ear to ear and said it sure paid off for him to come to sign up. Jan said it's a good omen and was sporting a pretty big grin too. Jan earned the coveted Iditarod Belt Buckle in 2012. She's scratched in 2013 and 2014 but like she said, this is a good omen!  
For a list of all mushers currently registered check Iditarod.com.