Weather woes.
Undoubtedly if you are an Iditarod fan, you have noticed the strange weather patterns. While the east is breaking record low temperatures, the north is doing exact the opposite. Ever since the new year arrived a mere 3 weeks ago, the Greatland has experienced a heat wave. Although the term " heat " is used very loosely here.  Heat in the Anchorage area means 45 above. Heat in Fairbanks means 35 above. Unfortunately both places also saw some precipitation in the " wrong from " which made for very slick driving and very slick mushing trails. 
Long time Iditarod volunteer Mike Webber from Nome is even reporting that it has rained all the way up there and the Runkel family from Nikolai has given it 3 tries to reach Rohn traveling through the farewell burn. On their last trip " the trees were blowing like grass in the wind " and they called it good at their place " Buffalo Camp ". Buffalo Camp is about 4o miles before Nikolai and often used by the mushers as a resting spot. Some years the tents are open, others they are not. But in any case once you reach buffalo camp, typically the bumpiest ride and the hills are behind you. It's a good place to regroup and change runner plastic. Changing runner plastic is something mushers this winter might just have to become more used to than normal, with the snow cover being as scant as it is.
Yet a lot can change between now and Iditarod start which still is 34 days away.  But no doubt it has not been the racing season to date, most mushers had hoped for. Last weekends Kusko 300 was close to being a Kusko Swim again. In the end Rohn Buser edged out ( or how others put it " dethroned " ) Jeff King.  Both mushers had their own set of " issues " leaving Kalskag. It could have very well been " the King " who took first prize. Both teams had equal traveling speeds.  I always very much eye the performance during Kusko. Its kind of a telltale of a kennels training program. The Kusko is as unforgiving as they come. Both mushers finished with nice looking large teams. And teams which have a lot of speed.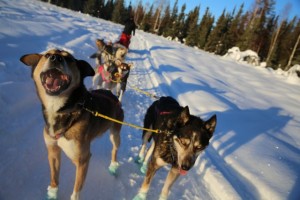 Jeff is for sure one of my top picks for this years Iditarod. He seems to be going " all out " in training, constantly being found up and down the Denali Highway.  Time will tell if Martin Buser tries to refine his unorthodox strategy from last years and do an early hard push into his 24 hr layover. Two nights ago I finally watched the 2013 Iditarod DVD. ( if you have not gotten yours yet here, it is well worth watching:
http://iditarod.com/iditarod-41-race-documentary-now-available/
That was the advantage of a rainy and warm evening: No running dogs and having time to watch a movie. Seeing it again in the DVD, how Martin pushed to Rohn early was exiting to see. 2013 Iditarod, with a constant change in the lead pack, for sure was an interesting race to follow. Lots of mental ups and downs for the mushers.
This year mushers might have to deal with those ups and downs already a bit more pre-race, due to the unruly weather.  More races have been cancelled and that for sure throws a wrench in some peoples training plans. The Northern Lights 300 and the Tustumena 200 are both not happening.  I was looking forward to see if Mitch Seavey was trying to repeat his 2013 Tustumena victory. Talking to Iditarod musher Matt Giblin  who works with Mitch, he stated that they had just returned from a 320 mile training session. No idle time for the top contenders.  And for sure busy times for all mushers with food drops looming around the corner and efforts to put some more miles on the dogs before the race comes.  Lets just hope that the weather switches to a bit more seasonal temperatures and that between now and 5 weeks from now a few more snowy days will replenish the snow cover. In case you are thinking that there is no snow at all up north, here some pictures of today's training run, which felt like April mushing , being bare handed.
Happy trails
Sebastian