After having tried unsuccessfully trying to catch a flight back to Koyuk, the next best thing was to talk to mushers on the checkpoint phone. Snowmachining back is 170 miles one way from here, that is why I opted against it.  Chuck Schaeffer was matter of fact about the cold night out. He left in a group of mushers, tried to go past the shelter cabin at " the rock " which is about 15 miles out of Shaktoolik. After the rock, teams travel on the the ice or Norton Sound.  He was not making much headway and decided to turn his team around and seek shelter at the cabin. There Chuck had the good company of Jason and Lance Mackey. All teams had enough dog food and were able to rest in the lee side of the cabin. It once again shows the importance that these remote cabins are kept operable.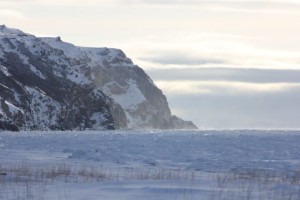 Other teams which pushed on further, made it all the way across to Koyuk, like Seth Barnes and Benjamin Harper. Ben traveled in a group with Linwood Fiedler and Bryan Bearss. They got separated in the whiteout conditions.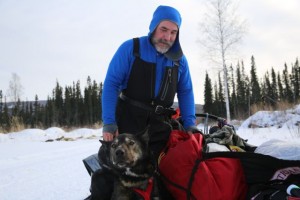 Talking to Bryan on the phone the wind was sustained 35 to 40 mile an hour. Whereas Benjamin Harper made it safely to Koyuk and is currently resting in Elim, Bryan Bearss ran into trouble. His leaders were getting tired of charging through the snowdrifts.  Bryan tried walking in front of his team for a while before deciding to stop for good. Some mushing greats like Libby Riddles had to do so before, during her 1985 win. Bryan figured he went to sleep in his sled about 3.30 a.m. His dogs were all curled up in one big bunch next to the sled, which he had flipped over to sleep inside. In strong wind gusts the sled was being pushed upright again. He felt he was getting colder and starting to shiver.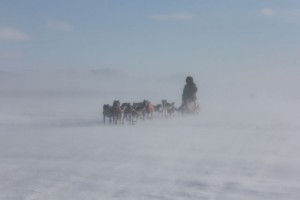 As Bryan put it: " This was the coldest sleep I ever had, and the closest I ever felt to mortality. "  That is when he decided to hit the spot tracker button. That signal apparently was never received. Several hours later, realizing no help was arriving and daylight breaking he could make out landmarks and decided to get going again. Driving a team of 10 dogs the team kept on veering over to " Gee " and were not responding to his " Haw " commands to go towards the village of Koyuk. Bryan saw that he was on the river past Koyuk and stopped again. He also noted that his tracker was not turned on anymore, changed the batteries and hit the hep button again. This time, within 30 minutes search and rescue arrived and helped him back to Koyuk. 
I have not personally spoken to Scott Janssen, but it is confirmed that both him and his dogs are safely in Koyuk. Both Bryan and Scott are out of the race.
Press Release Bryan Bearss Scratches in Koyuk
Press Release Scott Janssen Scratches in Koyuk
Currently more mushers are on their way across Norton Sound to Koyuk,
Sebastian