While the Ceremonial Start in Anchorage was pretty warm, it has been snowing hard in Fairbanks. Conditions are setting up to be nice. Out in Two Rivers we have 6 inches and counting. The temperatures have been close to freezing and now the wind is shifting to the North and the mercury is slowly dropping. PERFECT.
The trail as such experiences another re-route. Putting in the trail can only be done with expert local knowledge. And as it looks, there will not only be flat river miles on the way to Galena after all.
This is an update from Tom Huntington again:
Manley to Tanana is going on the old mail trail instead of on the river. I talked to Joee Redington last night. Overflow and maybe open water was the reason. Now you need to know of names like "Tofty Rd", Fish Lake, Clear Lake, Hay Slough.
Leaving Manley, you'll follow Tofty Road, a gravel road leading to the mining district north of Manley. It's the main overland trail to Tanana when the river trail isn't usable. Interesting note is that, now this year's Iditarod will traverse the original serum run trail all the way from Nenana to Galena before detouring to Huslia. After the Tofty Road section you'll follow the old trail to and across Fish Lake and Clear Lake before getting on Hay Slough leading you to the Yukon crossing at Old Mission right above Tanana. All the way from Nenana to Tanana, you'll not have traveled the Tanana river at all.
So much for easy snowmachining and passing teams on a wide open river. I am sure the mushers and specially dogs will appreciate the overland trail with ever changing scenery.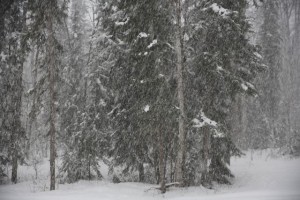 My traveling partner Tim is doing last minute modification to the snowmachines, my windshield was held together by cableties, time for a new one. He is outfitting his machine with custom storage boxes too, need to move one gas can holder over and then it is test run time. Playing with new electronics too, a A GOPRO mount FOR DOGS. Had it on one of the tour teams leaving this morning and I sure do like the footage! Hoping to find mushers who are willing to have us strap a camera on one of their dogs for a few minutes here and there. Camera batteries are charging!
Happy trails and specially safe driving to all of the mushers, officials, volunteers, fan from Anchorage to Fairbanks
Sebastian