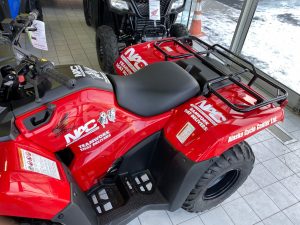 We are pleased to announce that the Northern Air Cargo Honda Rancher 4×4, pictured, will be awarded to a musher via a special NAC/Iditarod Facebook Live broadcast Thursday, April 30 at 4 p.m. Alaska time (5 p.m. PT, 6 p.m MT, 7 p.m. CT, 8 p.m. ET).
Normally the 4-wheeler is given away to a musher during the awards banquet in Nome. Since we were unable to hold our regular banquet, we have come up with this alternative. This year we have 34 finishing mushers that will be drawing for a chance to win.
Mushers will be attending via conference phone. We will ask each musher in reverse finishing order to pick a numbered key, from 1 to 34, — one of which will start the vehicle. John Andrey, sales manager with NAC, will be proxy as he will take each key and attempt to start the vehicle. When it starts, we have a winner! If a musher is not available, a random number generator will pick the numbered key for them.
The Iditarod will also be announcing the NAC Herbie Nayokpuk award, which is awarded to the individual chosen by the checkers in the checkpoints from Unalakleet to Nome who best epitomizes Herbie "Shishmaref Cannonball" Nayokpuk's spirit of mushing the Iditarod. The winner receives the Nayokpuk trophy artwork, $1,049 and a fantastic NAC Carhartt jacket.
The broadcast will go live on The Iditarod Facebook page at https://www.facebook.com/TheIditarod.