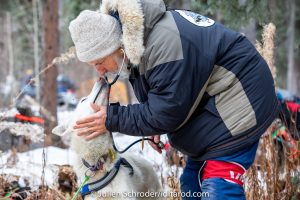 Accepting grant submissions now.
Pike Dog Wellness First Initiative Providing Iditarod mushers with veterinary care funding for their race teams to mitigate the impact of COVID-19.
The initiative will allocate $25,000 to both the 2021 and 2022 Iditarod mushers, totaling $50,000. The first 50 mushers to enter each race are eligible to receive $500 for qualifying veterinary expenses.
How to apply:
Be one of the first 50 mushers to sign up for the 2021 or 2022 Iditarod.
Fill out Pike Dog Wellness First Initiative form.
Submit form with qualifying veterinary care receipts up to $500.
Expenses will be reimbursed via check from the Iditarod. 
Expenses need to be incurred from 7/1/2020 – 6/30/2021.
Eligible expenses provided by a licensed veterinarian or licensed veterinarian technician include:
Wellness visits
Diagnostics
Vaccines

Deworming
Prescribed medications
Veterinary treatments

EKGs
Holistic health
Surgery
Pike Dog Wellness First Initiative form PDF 
Submit complete form and expense receipts by email: dogsfirst@iditarod.com, fax: (907) 373-6998, or mail to: Iditarod Trail Committee, 2100 S. Knik-Goose Bay Rd. Wasilla, 99654.
---
 

 

The Pike Dog Wellness First Initiative is made possible by Pike Legal Group PLLC.

"This race is one of the reasons I fell in love with Alaska. It embodies the Alaska way of life; the spirit, grit and dedication to preserving the culture of the sled dog that is so important to continue. I am thrilled with the additional emphasis the Iditarod leadership is placing on dog wellness. We know now is the time for even greater focus on the health of these canine athletes and I'm honored to be a partner in this important initiative."

— David Pike