by Martha Dobson

Edgar Nollner and Josephine Roberts. Father and daughter. Volunteers working in Tanana were thrilled to meet Josephine, now 93, who was a 3 year old when her father, Edgar, ran one of the relay legs of the 1925 Serum Run to deliver diphtheria antitoxin to Nome, combating the epidemic there.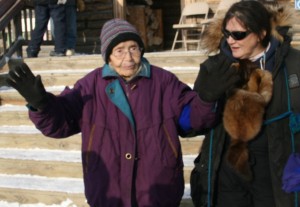 The first major public health initiative in the United States, the efforts to deliver the medicine by relays of mushers seized Americans' attention. Josephine Roberts was one of the elders present at Tanana's ceremony for Martin Buser, the first Iditarod musher of 2015 to reach the village. In 2015, the Iditarod Race route runs through villages on the trail used by these serum run mushers. Tanana, one of those villages, was excited to host the Iditarod again as it did in 2003. Along with Josephine, Roy Folger, son of Serum Run musher Johnny Folger, attended the ceremony for Buser.
The residents of Tanana presented beadwork to Martin on the steps of the Community Center underneath a sign welcoming Iditarod competitors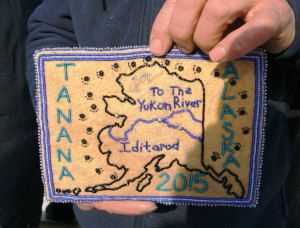 to their village. They also wholeheartedly volunteered by preparing the Community Center as musher headquarters, raking straw, parking teams, keeping hot water on the woodstove, fueling the stove, andfeeding the mushers and the race volunteers flown in to work: the vets, race communications, and trail volunteers.