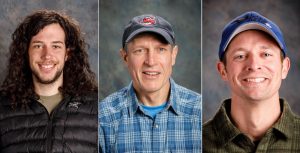 Very high winds and warm temperatures created a deep overflow of water on a section of the Iditarod trail near Safety. The race teams of Sean Underwood (bib #46), Tom Knolmayer (bib #30) and Matthew Failor (bib #29) encountered the deteriorated conditions and as a result, activated their emergency beacons at approximately 9 a.m. this morning.
In coordination with the Alaska State Troopers, Nome Search and Rescue and Alaska Rescue Coordination Center, all teams were safely rescued from the area and transported to Nome. The mushers, who were transported back to Nome by helicopter, were evaluated for precautionary measures and are being discharged from the local hospital. All sled dogs are reportedly in good health and are en route to Nome.
Because of these rescue efforts, all three mushers did scratch from Iditarod XLVIII.
The Iditarod is reworking this section of the trail so that the remaining teams can safely proceed on to Nome.