By Martha Dobson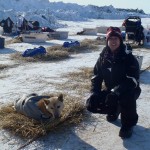 Working in the Nome dog lot, greeting mushers at the burled arch on Front Street, Iditarod 2012 volunteer Vivian Coleman was there when Justin Savidis arrived, a bit later than he intended. Coleman, of Charlotte, North Carolina, helped Savidis and his wife settle the team in the dog lot at Nome, putting together their crates and strawing their beds.
Wait! How did someone from the East coast, from the most definitely southern state of North Carolina, get to Alaska, the Iditarod, and as a volunteer?
An Iditarod video piqued Coleman's interest in 2000. Three years ago, she spent a vacation from her job as a transportation planner mushing recreationally in Minnesota. Breaking her shoulder on that trip didn't deter her from returning the next year and learning not only how to drive a small team, but provide all their care. In 2011, Coleman learned that the current Iditarod Teacher on the Trail lived within half an hour of her. Contacting Martha Dobson, she set up a time to meet, share pictures, and talk about the Iditarod.
A believer of living your life and making your dreams happen, Coleman arranged to take an extended vacation in 2012, applied to be a race volunteer, and volunteered in Anchorage in the phone room, at the dropped dog lot there, and as a handler for the race start and restart. Flying to Nome, she volunteered in the phone room there also, talking to people from all over the world, answering their questions about the race. And, she cared for the mushers' dogs resting in the Nome dog lot, awaiting their flights home.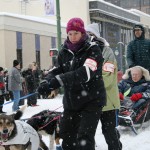 Highlights of Coleman's experience include driving a 10 dog team belonging to G.B. Jones, racing a 3-mile, 3-dog team in Nome, riding to the Safety Roadhouse in a snowcat, a type of oversized, enclosed snowmachine melded with a tank, and meeting the people who race and work with the race to make it happen.
In July, Coleman presented a Lunch and Learn program at her worksite, the Department of Transportation for Charlotte.  Approximately 80 employees turned out for the event.  They ranged from people who knew nothing about the race to people who raised Siberians to people who dabbled in urban mushing. When they left, everyone knew the race's history, the care the dogs receive, the breed's desire to run and pull, and they were envious of Coleman's adventures shared through photos and videos.
As Coleman advised the Lunch and Learn group at the end of the presentation, a picture of her making snow angels projected on the big screen…."It doesn't matter how old you are…you should make some snow angels or whatever is your passion in life."   A wise young man, Ferris Bueller, from a favorite 80's movie said it best:  "Life moves pretty fast.  If you don't look around once in a while, you could miss it. "  Coleman advises that we take advantage of all we can, believe in our dreams, and make them reality. The Iditarod is one step of many in her dog sledding adventures.