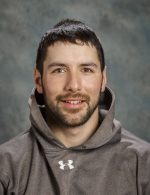 Richie Diehl
Bib Number:
29
Hometown:
Aniak, Alaska
Biography
Richie Diehl, 32, was born and raised in Aniak, Alaska. He graduated from the University of Alaska Anchorage in 2008 with a Bachelor of Science degree in Aviation Technology. He's been working as a carpenter in Aniak the last ten years. He says he began mushing "as a kid" and has been racing competitively in Alaska since 2010, having completed the Kusko 300 several times as well as the Paul Johnson Memorial 450 in its inaugural year, 2012, and the Iditarod since 2013. He lists his hobbies as flying, boating, fishing and hunting.
Sponsors
Ryan Air
YKHC Diabetes
The Hound House
Erich Kuball

Ken Acton
Alaska Commercial Company
Aniak Light and Power.
2018 Standings
Checkpoint
Time In
Dogs In
Time Out
Dogs Out
Rest Time
Previous
Layover
Status
Distance
Enroute Time
Speed (mph)
8hr
24hr
Willow
3/04 14:54:00
16
Yentna
3/04 18:48:00
16
3/04 18:52:00
16
0h 4m
3h 54m
10.77
42
Skwentna
3/05 01:02:00
16
3/05 01:07:00
16
0h 5m
6h 10m
4.86
30
Finger Lake
3/05 05:44:00
16
3/05 09:52:00
16
4h 8m
4h 37m
8.66
40
Rainy Pass
3/05 13:22:00
16
3/05 13:28:00
16
0h 6m
3h 30m
8.57
30
Rohn
3/05 21:42:00
16
3/05 22:01:00
16
0h 19m
8h 14m
4.25
35
Nikolai
3/06 11:09:00
16
3/06 16:21:00
15
5h 12m
13h 8m
5.71
75
McGrath
3/06 23:44:00
15
3/06 23:46:00
15
0h 2m
7h 23m
6.50
48
Takotna
3/07 02:22:00
15
3/08 03:40:00
14
25h 18m
2h 36m
6.92
18
Ophir
3/08 06:04:00
14
3/08 06:06:00
14
0h 2m
2h 24m
9.58
23
Iditarod
3/08 19:32:00
14
3/08 23:42:00
13
4h 10m
13h 26m
5.96
80
Shageluk
3/09 07:25:00
13
3/09 15:25:00
13
8h 0m
7h 43m
7.13
55
Anvik
3/09 19:02:00
13
3/09 19:06:00
13
0h 4m
3h 37m
6.91
25
Grayling
3/09 21:48:00
13
3/10 04:19:00
13
6h 31m
2h 42m
6.67
18
Kaltag
3/11 01:10:00
13
3/11 07:29:00
12
5h 19m
20h 51m
5.85
122
Unalakleet
3/11 22:37:00
12
3/12 03:31:00
12
4h 54m
15h 8m
5.62
85
Shaktoolik
3/12 09:16:00
12
3/12 15:23:00
12
6h 7m
5h 45m
6.96
40
Koyuk
3/12 23:23:00
12
3/13 04:16:00
11
4h 53m
8h 0m
6.25
50
Elim
3/13 10:35:00
11
3/13 13:51:00
11
3h 16m
6h 19m
7.60
48
White Mountain
3/13 20:49:00
11
3/14 04:49:00
11
8h 0m
6h 58m
6.60
46
Safety
3/14 11:20:00
11
3/14 11:23:00
10
0h 3m
6h 31m
8.44
55
Nome
3/14 14:19:47
10
2h 56m
7.50
22