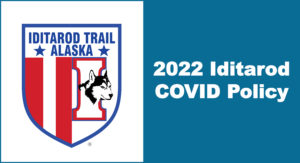 The Iditarod Board of Directors passed a resolution requiring COVID-19 vaccinations for all participants in the 2022 race. This applies to the entire Iditarod community, mushers, staff, contractors, volunteers, pilots, veterinarians, etc.  This decision was made in concert with feedback from rural Alaska and is reflective of the Iditarod's broad community health consciousness.
With regard to a comprehensive COVID-19 plan for our 50th Anniversary event we are developing plans corresponding to COVID-19's current and anticipated trajectory. Continue to check this page for updates as we approach the Iditarod Sled Dog Race week activities.
If you have any question on the vaccination policy, please contact Covid-Prevention@Iditarod.com
COVID Policy FAQs
What does it mean to be fully vaccinated?  The policy requires that everyone working, running or volunteering with the Iditarod be "Fully Vaccinated" – Fully Vaccinated is defined as 14 days after completion of a full COVID-19 vaccine regimen.  For the mRNA vaccines (Pfizer and Moderna), this is two weeks after the second dose.  For the Johnson & Johnson vaccine, this is two weeks after the one dose vaccine. 
Will boosters be required? While we urge all to consider a booster if medical guidance for doing so applies to you, they will not be required.
What Vaccines are approved to meet the Iditarod's requirement? Any vaccine authorized by the FDA (under Emergency Use Authorization or full FDA authorization) or the WHO satisfies the Iditarod's vaccine requirement. Currently, this includes for the US: Pfizer (2-dose), Moderna (2-dose) and J&J (1-dose), and for Canada and Europe: Astra-Zeneca (2-dose) and Sinovac (2-dose).
What is the last date to be fully vaccinated? – You need to be fully vaccinated by January 1, 2022 in order to participate with the Iditarod in any way. 
What is the process to show vaccine status? – Please send a photo of your vaccination card to Covid-Prevention@Iditarod.com
Will there still be COVID-19 testing protocols? – Yes. Testing and masking protocols will be a part of the 2022 Iditarod race in addition to the vaccine requirement.  We will provide the testing and masking protocols at the beginning of 2022.  These protocols will be responsive to the trajectory of the pandemic.
Are there exceptions to the vaccine requirement? – While we realize that some in our community are not yet vaccinated, there are no exceptions for this requirement.