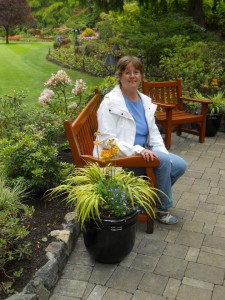 A Celebration of Life for Deby Trosper was held on Saturday, September 21, at 11:00 AM at the Wasilla Christian Church, in Wasilla, Alaska.
Surrounded by her loving family, Deby passed away on August 22 after a courageous battle against cancer. 

Deby retired from her job at Iditarod following the 2013 race but she remained active in the organization until her passing.  Deby wore many "Iditarod hats"as Director of the IditaRider Program, Iditarod Membership Coordinator, Volunteer Coordinator, and many other jobs over the years. Deby will be missed by the Iditarod community and by ITC. 
At the time of her passing, Deby and her family resided in Hoodsport, WA.  Her last months were filled with journeys and special times with friends and family, including her deeply adored granddaughters, demonstrating what all of us that new Deby, understood about Deby.  Deby always enjoyed life to the fullest.  Rest in peace, dear friend.

Deby's obituary read as follows:
Long time Alaskan, Deborah "Deby" Trosper, 61, passed away Aug. 22, 2013 in Olympia, Washington after a battle with cancer. Her family was with her at her passing.
Born June 11, 1952, in Corpus Christi, Texas, She moved to Fairbanks, Alaska, in 1974 where she met her husband, Steve Trosper. From 1974 to 1982 the Trospers worked as musicians in Alaska, California and Texas. In 1984 the family moved to Wasilla, Alaska, where Deby became associated with the Iditarod sled dog race, first as a volunteer and later as a staff member. She loved her family, friends, music, and the time she spent with her co-workers, volunteers and the friends she made on the Iditarod trail. Deby was blessed to spend the last years of her life near her children and grandchildren in Washington.
Trosper was preceded in death by her parents. She is survived by her husband, Steve; three children, Ezekiel (Zeke) Trosper and wife, Melanie of Des Moines, Wash., Sarah Simpson of University Place, Wash., and Zachary Trosper of Union, Wash.; a sister, Jerry Snyder of Orlando, Fla.; a brother, James Flemmons of Round Rock, Texas; and two granddaughters, Charlotte "Charlie" Simpson and Vera Belle "Vivi" Simpson of University Place.
A celebration of her life will be held Saturday, Sept.21, at 11 a.m. at Wasilla Christian Church, 2201 S. Knik-Goosebay Road in Wasilla. At her request her ashes will be scattered on the Iditarod Trail at Rainy Pass.
 *Thanks you to those who contributed to Deby's photo scrapbook.
Deby Trosper
Click on thumbnail images to view a larger image.
All photos in this gallery are by Iditarod Trail Committee. Reproduction prohibited without written permission from the photographer.