Musher arrival in Nome for Thursday capped off with the Beringtons and Jodi Bailey. Iditarod volunteers enjoyed a thanksgiving dinner at the bunk house/dinning room and then headed to the burled arch to welcome and give thanks for three more mushers safely into Nome. Again, when asked about the trail, the three women spoke of a common theme. Usually it's the Happy River Steps or the Dalzell gorge that are tough but in 2013, it was the overflow at Iditarod and the rain on the Yukon River that called perseverance into play.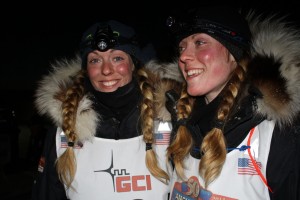 For two years in a row spectators have seen double in the chute on Front Street. Identical twins, Anna and Kristi Berington have come off the Bering Sea and approached the burled arch nearly side by side. Last year Anna's lead dog broke the plane of the arch first by one minute. This year Kristi won the race between the twins. Nice that they share. There was quite a crowd to greet the Beringtons including students with a welcome sign. The race went well for the twins although there were some tough spots with trail conditions, rain, wind and broken sleds. Anna's brake and driving bow broke before the Dalzell Gorge. With advice from Kristi and Gerald Sousa, Anna got it put back together strong enough to run the Gorge, Buffalo Tunnels and the Burn. Anna was plenty glad to have a sled waiting at a Kuskokwim River checkpoint.  Anna and Krisit who shared hugs under the burled arch have come a long way from their first mushing experience with the family collie and great pyreneese.
By the way, check the rules and you'll see that mushers are allowed three sleds during the race. The sled used at the restart counts as the first sled. Two sleds can be shipped out to the trail. McGrath is a popular place to ship a sled as the Steps, Gorge and Burn can cause plenty of damage. Unalakleet is another popular place to ship sleds as mushers often change to a lighter sled for the run along the coast.  Borrowing another musher's sled counts as one of your three.
A half hour pause between the arrival of Bx2 and Jodi Bailey gave folks a chance to warm up in the Mini Convention Center or stand around the burled arch talking. Jodi almost sneaked into the chute unnoticed. The siren didn't sound but then out of nowhere came two very bright head lamps stacked vertically. Couldn't be a train as there aren't tracks on Front Street but the lamps were that bright. Turns out the lower lamp was mounted on the Bailey's driving bow and she  was wearing the other. Leading the Dew Claw Kennel team into Nome was faithful and ever dependable Orchid. Jodi left the photogenic twins, Pepsi and Topaz in Koyuk. As youngsters, they had done their job, had done it well and had done it while having fun learning about long distance racing the Iditarod trail. Look for those two beauties to be stellar in the future. Jodi lost runner plastic in the burn. Jodi said the water near Iditarod was more like three different rivers than "overflow." Bailey had more runner problems after leaving Iditarod checkpoint. First one runner broke, then the other gave out. Thanks to Matt Giblin and Travis Beals who came along with lots of advice and hose clamps, Jodi was able to limp into Anvik and borrow a sled. Not just any sled but a sled the Champ, Mitch Seavey left behind. Seavey sled bags are yellow and the sled itself is made from Easton Ultralite hockey sticks, a very distinct eye-catching combination. Bailey rode the Seavey sled for the remainder of the Yukon River and across the portage trail to Unalakleet where she had a sled waiting. Analyzing the race from under the burled arch, Bailey said, "Every year is different. The line on the map might be the same but the weather and "luck" are different."