Still waiting in McGrath for air transport to Unalakleet. My name is on the list for departure early this afternoon. Once again, the cooks and Wi-Fi are our best friends. Up far ahead of where I am, the front of the race is rather crowded. A musher should claim the Gold Coast Award before noon. About the time I'm airborne for the Gold Coast, there'll be a flurry of teams arriving at the slough behind the checkpoint that's behind the post office in Unalakleet. Right now there's a lot of resting, running and strategizing going on between Kaltag and the coast. Resting between the two points, then running on through to Shaktoolik is a strategy that has moved a few mushers in past years closer to or into the lead position. Joe and Sabastian are providing plenty of excellent color commentary for that front of the pack.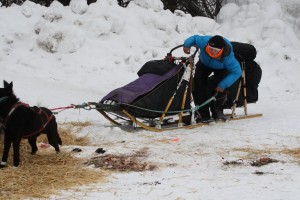 The youngest musher of the 2013 contestants is a young man by the name of Travis Beals. Travis is twenty-one but looks to be about ready to try for his driver's license. Don't let his age or young looks fool you. He's been on or in a sled for more than his lifetime. Pregnant with Travis, his mother continued to train dogs. After he was born, his mom tucked him into his car seat then strapped it to the sled and off they'd go. When he could walk, he'd often take his bottle and blanket out to share the dogs. And in return, the dogs shared their houses with him. That's what you'd call growing up mushing dogs or being around dogs all his life. He ran his first sled dog race at the age of four. 
When his mother decided to "get out of dogs," Travis began working with a local Seward musher, Rick Tarpey. A year before he could try for the driver's license he doesn't look old enough to have, he established his own kennel. He's been buying and breeding dogs ever since.
What young man doesn't like racing and adventure? Travis wanted both so he trained for and entered junior and mid-distance races. In 2009, Travis earned 2nd place in the Junior Iditarod. Racing in the 2010 Tustemena 200, Travis earned the Humanitarian award. Iditarod 2013 is his first 1,000 mile race. From the enthusiasm and energy he's showing, I'll bet it will be the first of many for Travis.
Travis left McGrath with 15 very energetic dogs after securing a package at the post office from his kennel partner Sarah Stokey. Together they operate Turning Heads Kennel. Travis and his team of 15 happy Alaskan Huskies are heading north on the Yukon River toward Kaltag. He's completed his 24-hour long layover as well as his required 8-hour Yukon rest.