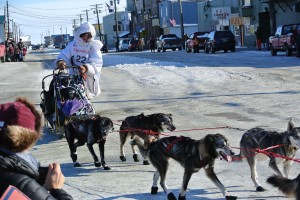 Travis Beals was anxious to get to Nome. Every Iditarod musher looks forward to Nome but Beals, but the youngest musher on the trail, had a special reason. He left Safety at 13:46 behind Matt Giblin, Karin Hendrickson and Justin Savidis. He put the pedal to the metal, shifted into high gear and sped the distance to Nome. There must be a mushing equivalent to "pedal to the metal" but I don't know what it is. Maybe "booties to the trail?"
On the twenty-two mile run Travis passed Hendrickson and Giblin early on. Savidis was the only musher between Beals and the burled arch. I saw Justin on his trip from Safety to Nome last year. He was poling and kicking in sync with the dogs, smooth and rhythmical. Guessing he was doing the same this year, so in tune with his dogs, and unaware of the musher gaining from behind. But Beals was gaining slowly and steadily until the two teams looked like one team of 20 dogs. Then as Travis pulled even with Justin, a spectator along the trail might have thought he or she was seeing double. Beals and canines continued the pass overtaking Justin who had left Safety forty-eight minutes ahead of Beals.
Speeds calculated by the GPS tracker tell all. Savidis averaged 6.8 miles per hour while Beals averaged 9.17 miles per hour between the Roadhouse at Safety and the burled arch in Nome. Matt Giblin's speed was 8.15 miles per hour and Karen Hendrickson rolled along at 7.29 mph. Beals had them all by a little more than a mile per hour.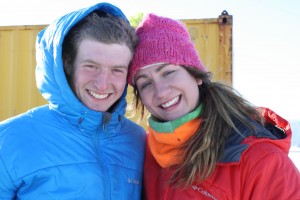 Undoubtedly Travis had imagined what it would be like coming off the Bering Sea, climbing the ramp onto Front Street, making his way toward the burled arch behind a squad car. The fire siren would sound announcing his arrival. His parents would be there as well as his kennel partner and girl friend Sarah Stokey. He'd proabably organized his sled bag before leaving White Mountain so as to be able to speed through the sled check and quickly sign in.
Before taking his team to the dog lot, he had a question to ask. This important question was his reason for turning on the after burners when leaving Safety. Right there under the burled arch in Nome after completing his rookie Iditarod and earning the coveted belt buckle, he asked Sarah to marry him. The answer was YES!
There wasn't much time to bask in the moment. There were eleven hungry sled dogs to be praised, loved, fed and housed in the dog lot. Travis claimed 37th place with a time of 11days, 1 hour and 10 minutes.