When it comes to Iditarod history, the 49th race was indeed unique.  It was a combination of perseverance, innovation, teamwork and determination.  There was COVID-19, a new route that went up the down staircase, minimal interaction with villagers and camping in frigid temperatures and like always there were stories and events that made the race remarkable.
Special awards serve as the stage for sharing those noteworthy happenings.  The voice of Iditarod, Insider Greg Heister, did a masterful job sharing those special moments from the trail in a virtual awards ceremony so that race fans could celebrate the 49th Iditarod and the special accomplishments of the indomitable sled dogs and mushers.
With the change in the route for 2021, most of the "First To" awards were given on the inbound-trail as the race didn't pass through the checkpoints where the award is traditionally given.  Inbound awards are noted as Checkpoint Name followed by South.
Honorary Musher – Mushers of the 1925 Serum Run
For his role in saving the children of Nome from Diphtheria, Leonhard Seppala was saluted as the honorary musher through 1979.  In 1980, Wild Bill Shannon was named honorary musher.  When the serum arrived in Nenana by train, Wild Bill received the precious package from the train conductor and began the relay to Nome.  We know the rest of that story.  Dr. Jodie Guest an Epidemiologist from Emory University and long time Iditarod volunteer led the development and implementation of the COVID-19 Zero Transmission Plan.  She is most deserving of Bib #1.
Alaska Air Transit Spirit of Alaska Award – Dallas Seavey
As the first musher to reach McGrath, Dallas Seavey received a pair of musher mittens fashioned of beaver fur and moose hide by Lorette Maillelle of McGrath and a beaded velvet and beaver fur hat created by Lucy Egrass also of McGrath.
GCI Dorothy G. Page Halfway Award – Brent Sass
This award, given in honor of the late "Mother of the Iditarod" Dorothy G. Page, went to Brent Sass upon reaching Iditarod Checkpoint.  Brent had the choice of either $3,000 in gold nuggets from the Iditarod Mining District or a state of the art smartphone with a year of free GCI service.  Sass chose the gold nuggets.  Brent's name will be added to a perpetual trophy made of Alaskan birch and marble with a photograph of the late Page that is displayed at Iditarod Headquarters.
The Lakefront Anchorage First Musher to the Yukon Award – Dallas Seavey
The first musher to reach Ophir South received a five-course gourmet dinner to be prepared at The Lakefront Anchorage by their executive chef, a bottle of Dom Pérignon and an after dinner mint of $3,500 in one dollar bills.  Normally this meal is prepared at either Anvik or Ruby and served to a musher and invited guest.  This year Seavey and guests will enjoy the meal at a later date at The Lakefront Anchorage.
Bristol Bay Native Corporation Fish First Award – Aaron Burmeister
This award, presented to Aaron Burmeister, recognized the first musher to reach Rohn South.  The Bristol Bay Native Corporation presented Burmeister with a check for $2,000 and 25 pounds of Bristol Bay salmon.  In receiving the award, Aaron said the money would be put toward dog food and the family would enjoy the renowned delicious  Bristol Bay salmon. 
Ryan Air Gold Coast Award – Dallas Seavey
As the first musher to reach Rainy Pass South, Seavey received $1,000 in gold nuggets and a hand carved ivory sled dog team presented by Ryan Air.  Ryan Air has presented this award, normally given in Unalakleet, to the first musher reaching the Gold Coast, since 2019.
Northrim Bank Achieve More Award – Dallas Seavey
As the first musher to reach Skwentna South, Seavey received a check for $2,500 and a one-of-a-kind print.  Northrim Bank has presented this award at White Mountain since 2018.
Nome Kennel Club Fastest Time from Safety to Nome – Dan Kaduce
The Nome Kennel Club award is one of Iditarod's longest standing going to a musher with the fastest time from Safety to Nome who finishes in the top 20.  This year, the time determining the award was from Skwentna South to the Deshka Landing finish, a distance of 67 miles.  Departing Skwentna South with nine dogs at 21:53 on March 15th and arriving at the finish line at 05:33 on March 16th, Kaduce covered the distance in 7 hours and 40 minutes.  He finished in 16th place with an overall time of 8 days, 14 hours and 33 minutes. 
Rookie of the Year – Chad Stoddard
In 23rd place, Fairbanks musher Chad Stoddard, was the first rookie to cross the finish line. He completed the race in 9 days, 4 hours and 6 minutes behind a team of Mackey dogs that he has nurtured since 2018.  Chad has a unique tie to the mushing life in Alaska, His great-grandfather delivered mail by dog team around the time of the Serum Run of 1925.  This award goes to a musher racing his/her first Iditarod.  Stoddard will receive a trophy and a check for $2,000.
Red Lantern Award – Victoria Hardwick
Awarding a red lantern for perseverance has become an Alaska tradition in sled dog racing.  Victoria Hardwick of Bethel crossed the finish line in 36th place with a time of 10 days, 9 Hours and 22 minutes to claim her second Red Lantern Award.  Only 2 seconds separated the final two mushers, Hardwick and Dakota Schlosser.  The Red Lantern honors the final team's dedication to fulfilling their goal of safely and successfully crossing under the burled arch.  Along with the Red Lantern, official Iditarod artist and 2-time Iditarod finisher Jon Van Zyle presented Hardwick with an original 5" by 7" framed painting.      
Matson Most Improved Musher Award – Ryne Olson
Ryne Olson completed her third Iditarod in 18th place and was the 4th  of five female mushers to cross the finish line in the top twenty.  In 2016 Olson crossed the finish line in 51st place.  Her 18th place finish in 2021 was an improvement of 41 positions!  Matson honored Ryne with $2,000 and a commemorative trophy.
Northern Air Cargo Herbie Nayokpuk Memorial Award – Brent Sass
Checkers chose Brent Sass as the musher who best personified Herbie (the Shishmaref Cannon Ball) Nayokpuk's spirit of mushing the Iditarod.  In nominating Herbie for the Daily News Iditarod Hall of Fame in 1997, John Tracy describes Nayokpuk, " This Alaska Native was everything good about the Iditarod: tough, strong, savvy and kind.  No one  was more respected on the trail and his team was a thing of beauty to see."  Brent received a Northern Air Cargo jacket with 1,049-dollar bills in pocket change.
Donlin Gold Sportsmanship Award – Matthew Failor
Mushers chose Matthew Failor as the best sportsman on the trail.  Matthew was often seen helping and encouraging competitors despite his own painful hip issues.  Failor himself was mentored by Martin Buser and continues to pay forward in sharing his knowledge and lending a hand where needed.  Being eternally positive and upbeat Failor is a joy to be around.  Donlin Gold presented the 21st place finisher with a plaque and $3,000 check.
Most Inspirational Musher Award – Matt Hall
Matt Hall was honored by his fellow mushers as the most inspirational musher on the trail.  Even though his own race didn't go as well as he had hoped, Matt offered encouragement to everyone and was a helpful mentor to rookies.  Hall was always upbeat and his positive attitude was greatly appreciated by other mushers.  Matt receives a paid entry for the next Iditarod.
Golden Clipboard Award – Skwentna
The Iditarod Official Finishers Club salutes the checkpoint that is the most helpful along the trail.  Skwentna served as the first checkpoint as well as the final checkpoint for the Gold Trail Loop.  They provided hot water, musher food and a never ending well of coffee.  They were wonderfully welcoming on the first night of the race and in the finals hours of the race as mushers served their 8-hour required rest.  Skwentna checker, Keegan Fritts, has a long history with the race.  As a little boy, he went out to Skwentna with his parents, Rob and Cindy Fritts, as they helped Joe and Norma Delia run the checkpoint.  Keegan praised the 2021 River Crew and Cabin Crew saying, "It was a challenging year, but we met adversity with resilience."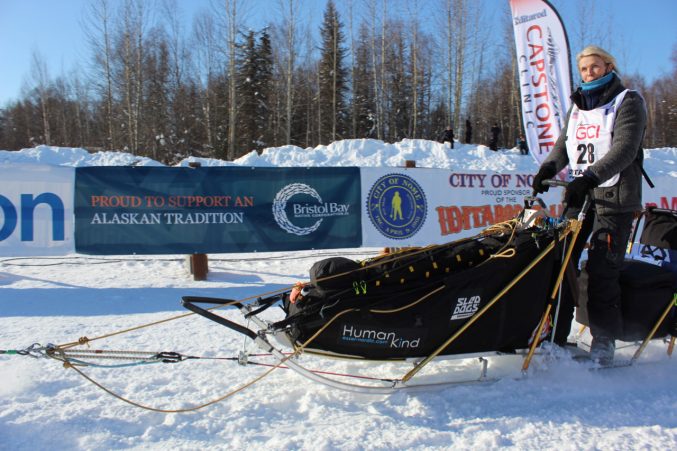 Leonhard Seppala Humanitarian Award – Mille Porsild (Photo Credit: K. Bogan)
Veterinarians honored 5th place finisher, Mille Porsild, with the prestigious Seppala Award.  The award goes to a musher that demonstrates outstanding dog care while remaining competitive throughout the race.  A team of veterinarians evaluates the top twenty teams and chooses the recipient. Mille was humbled in receiving the award saying on her Facebook page, "It's simply unreal to me.  It is such an incredible honor.  Pretty much nothing I could be prouder of receiving in the race.  I am stunned.  Thank you for the kind congratulations, especially thank you to my incredible dog team for having such a phenomenal appetite and being such super-healthy athletes."   Mille receives a paid entry for the next Iditarod and an engraved lead crystal trophy.
City of Nome Lolly Medley Memorial Golden Harness Award – Gamble
Eight year-old Gamble a leader for Dallas Seavey received the Golden Harness.  Lolly Medley of Wasilla was one of the first two women to run Iditarod in 1974.  In 1977 Lolly,  a renowned harness maker, began presenting a hand fashioned golden harness to an outstanding lead dog chosen by the mushers.  Since her passing in 1986, the City of Nome continues to sponsor the award in her honor.   Seavey says that Gamble has been a super star ever since his first race.  He has a calm confident demeanor, he is a steady rock that the team is built around and he is my go to leader.  Gamble comes out of Diesel and Guinness, leaders that brought Seavey to Nome for his first Iditarod championship in 2012.
Northern Air Cargo 4-Wheeler Drawing – Lev Shvarts
The key Lev Shvarts of Willow chose, started the 4-wheeler given by Northern Air Cargo.  Each musher selects a key and the musher with the key that starts the machine goes home with the 4-wheeler.  Every musher who finishes has a chance to win this award.