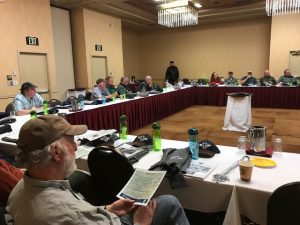 The Iditarod Air Force is a team of volunteer pilots who support "the Lasts Great Race on Earth®" from Anchorage to Nome.  The 30 some volunteer pilots collectively bring more than 743 years and 420,000 hours of flying experience to the table. These credentials speak highly of a dedicated group of pilots that are about to make a lot of things happen before, during, and after the 2018 Iditarod.
The Iditarod Airfoce (IAF) met at the Lakefront Hotel for a meeting Tuesday evening to discuss details for this year's race. Final information was distributed to all the pilots and support personal. The Federal Aviation Administration spoke on air traffic control.
The IAF plays a crucial role in distributing essential supplies to checkpoints before the race. During the race, they get supplies, people, and priority 1 passengers – the dogs that have been dropped or are on scratched teams- to hubs for transportation back to Anchorage. After the race, their work continues as people and supplies are moved out of the checkpoints.  From moving supplies such as dog food and veterinarian supplies, to lumber and tents that are constructed at checkpoints to fresh straw for the dogs,  the IAF is in the business of getting these  important jobs done. The IAF is an amazing 'force' that does what needs to be done for the race.
Mark Nordman says, " Without these volunteers, I don't know how we could have a race to Nome."