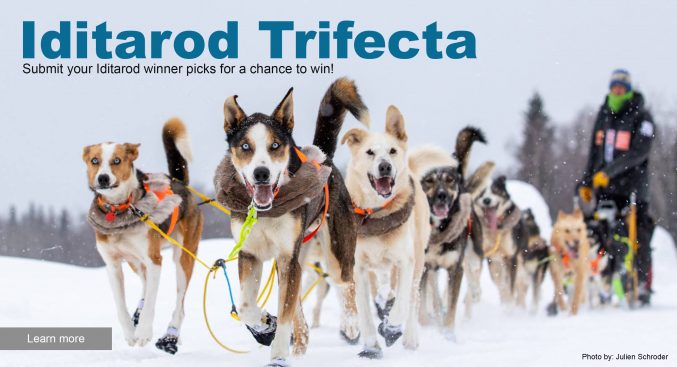 The Iditarod is thrilled to announce the "Iditarod Trifecta," a new dog musher contest for the 48th running of the "Last Great Race on Earth."
Beginning today through March 8, mushing fans from all over the world can participate in the Iditarod Trifecta, a dog musher contest to win a cash purse. Simply enter a guess on the Iditarod champion, their finish time and the number of dogs that cross the finish line.
This is a fun, interactive way to follow the Iditarod race and gives fans a chance to win big. Each guess costs $10, and players can enter an unlimited number of guesses.
The Trifecta purse is determined by the total number of entries. The winner will be selected based on who gets the most accurate Trifecta prediction and will be announced by March 22, 2020.
Once a Trifecta winner has been determined, the purse is divided up among the Trifecta winner, the Iditarod and the Iditarod top twenty finishers. The purse broken down is 40%, 40%, and 20% respectively.
Fans interested in submitting entries in person must complete the official entry form and payment no later than 1 p.m. on March 8, 2020. Those who mail in their paid entries must be received by the Iditarod no later than Friday, March 6, at 5 p.m. For more information, and to submit an entry form, visit: Iditarod.com/trifecta-2020.