Dear Iditarod Volunteers, Mushers and Staff,
It seems that there isn't a person on this planet who hasn't been affected by COVID19 in some way. I couldn't start this letter without first saying that our hearts, souls and minds stand with all those who have lost loved ones during this challenging time in our world. I'd also like you to know that we stand firmly with our frontline workers. They are the true superstars in all of this.
It is with the reality that this virus is still with us and would be devastating to the Alaskan communities on the trail that we created this cautious and detailed plan to race the 2021 Iditarod safely with a goal of zero COVID19 spread to volunteers, mushers, staff, official media and (most importantly) communities.
We want to be abundantly clear that there is no way we would consider this effort without a plan that takes extreme measures to mitigate as much risk as possible and to protect all involved.  We believe our plan will do just that.  This plan was created by an experienced team of infectious disease epidemiologists led by Dr. Jodie Guest (ITC COVID19 Epidemiology Czar).  This team includes Dr. Kristin Nelson (Infectious Disease Epidemiologist) and Lisa Chung and Zoe Schneider (Emory COVID19 Outbreak Response Team).  Additionally, this plan has been developed in conjunction with the Alaska Department of Health and Social Services and with input from other multiple stakeholders.
We are reaching out to  communities on the Iditarod trail to seek their feedback on this this plan as we intend to be inclusive in the ways in which we govern, congregate and exist in communities during the 2021 Iditarod.
This race will be like no other.  We are requiring each participant, (mushers, volunteers, staff, official media) to undergo continuous testing during the 2021 Iditarod.  This is being done to protect all Alaskans and preserve the rich tradition of our Alaskan way of life.
In advance, we thank you for your commitment to this race, the dogs, the communities and to each other.
Rob Urbach, CEO The Iditarod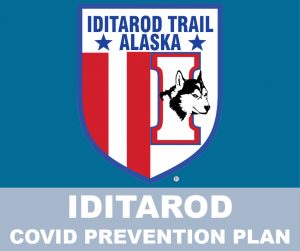 Read the full plan here.
This is a living plan that may change, based on circumstances. Please stay connected to Iditarod news through our newsletter by signing up as a free user here, if you have not done so already. We will be updating our fans on any event changes that take place via our newsletter, social media, and website. Visit our Iditarod Travel Guidance page here for spectator updates and more.