Thoughts on the " new race trail "
 Looking at the current weather conditions the decision to move the " real " Iditarod start to Fairbanks was a wise move. Conditions along the traditional route have not improved, while here in Fairbanks we have been getting some more snow off and on. The trails are in great shape and temperatures have been very moderate for Fairbanks standards. 6 of this years Iditarod Mushers are also in for a very special treat. Quest Champion Brent Sass and his fellow Quest 2015 Finishers Lance Mackey, Hugh Neff, Allen Moore, Rob Cooke and Jason Campeau are technically running Whitehorse to Nome, on a continuous Trail though Fairbanks. 2000 Miles through some of the most beautiful wilderness Alaska has to offer. 
 Fairbanks to Nome: River miles are much safer, than running your way down an icy Dalzell Gorge and over tussocks through the burn to Nikolai. I have been asked of what the change in trail will do to the outcome of Iditarod 2015? Will it level the playing field for all, and give rookies and even chance? I do not think so.
What the new trail should do, is make it nicer for all mushers and dogs to " ease " into Iditarod. To find a good run and rest cycle, while driving a large team. On the traditional route, some of the most technical driving is at the beginning, which last year forced many experienced and rookie mushers out of the race very early on. That should not happen this year. I am hoping that results in much less scratches over all and more teams reaching their goal of the finish line in Nome. That being said, there was also some very unusual technical sled driving later on in Iditarod last year. Specially between Unalakleet and Shaktoolik, where there was also next to no snow and the trail went through nasty sections of driftwood and jagged ice. By that time, teams are generally less amped up, a bit smaller in size and things are more manageable. Technically yes, all mushers are rookies on the first part of this years route, yet the mushers with more experience, still have that….. more experience and it will show.
But more than anything, once the teams are in Nulato, they are back on the traditional route. Typically the earlier part of the race , is not where Iditarod is being decided. It is the coast where that happens. And those teams, who have been on the coast, specially those dogs who have been in the coastal checkpoints, still have that strategic advantage this year. If you look back in recent history of Iditarod placings, quite a bit of rearranging of the finish line order happened during the last 350 miles of the race, and I do not expect that to be any different this year.
One distinct change this year is much less checkpoints earlier on in the race with some distances which will demand that most mushers have to camp out. Few teams will attempt to run 90 miles from Nenana to Manley Hot Springs in one shot. Most likely nobody will try 119 miles from Tanana to Ruby in one run. That is a big change for some Iditarod mushers, who have been traditionally running checkpoint to checkpoint. From the start in Fairbanks to Ruby it is 335 miles and Ruby is the 4th Checkpoint, an average of 83 miles in between Checkpoints. That is much different than Ophir sitting at Mile 341 of the normal route and being the 9th checkpoint. The change in logistics are huge for ITC with the new checkpoints and route.  It is an amazing feat everybody is pulling off, officials, volunteers and villages! 
It can be a game changer, if you have to load a dog on one of those long runs. Yet they are river miles and if the trail is not blown in, its is easy pulling for the dogs. That can change in a heartbeat, a matter of hours can mean totally different conditions on the river. In 2009 the front pack had a well defined, somewhat fast trail going from Grayling to Eagle Island to Kaltag. From about 20th place on that changed to a completely blown in trail and run-times almost doubled. The weather, specially the wind, can be a major factor during River Travel. Considering how long the race travels on the river this year, we can almost be sure to see some of that. Specially looking at this forecast talking about an " Arctic blast " for next week. https://www.facebook.com/NWSAlaska Almost the same happened during the Yukon Quest start.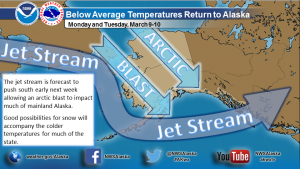 Camping out with your dogteam is not necessary a bad thing. It is much more peaceful and quite than in a busy checkpoint. It is more one on one time with you dogs and for quite a few mushers it is exactly that solitude they look for. Being out in Nature with their best friends.
I wonder how many musher will take advantage of taking their 24 hrs layover in Huslia, a place famous known for mushing, specially being the home town of the late George Attla. Taking a 24 hr layover there, gives the musher the chance to spend some time in that remote community. I sure hope to stop there for a while with my iron dog.
Talking about which…. The iron dog. My Iron dog (s ) have been giving me all kind of issues. 2 brand new machines have seen the shop more than they have seen the trails. They are in the shop as I type this.  The plan was to hit the trail with 2 machines instead of me traveling alone, so I can take more pictures from the " new stretches and specially the mushers camping out ". Both machines keep on getting engine problems. Check engine light comes on, they go in a " safe mode " which means a maximum of 15 miles an hour. That pretty much puts an end to my reporting, as I can't travel fast enough. The only option is to " see dealer ". Well there is no more dealer along the Iditarod trail. If I break down, that would limit me to flying and checkpoint reporting which really be a shame. Being out of time, I will take the gamble to yet again get another machine, one with a proven engine I have used for the last 3 years. I will not even be able to drive it before Sunday morning, as I will be in Anchorage for the next days too. But heck, we are all looking for a challenge, aren't we? Banquet time tomorrow! 
REALLY looking forward to the " New Trail " and to bring you some nice photos and stories! Happy trails.
Sebastian