Jeff King was clowning around in Elim, all in a good mood, despite just being passed again while resting by Joar Leifseth Ulsom. His dogs were resting in the plentiful sunshine and were enjoying another meal Jeff offered them. The 4 time Champ was in no hurry.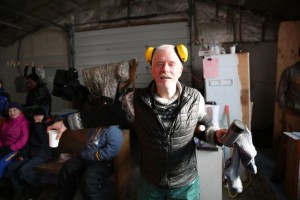 We hit the trail not really expecting to see anybody until Golovin Bay, from what the tracker had shown us. Explaining the landmarks to Tim, we were stopping on top of a hill just to find out that we were not alone. Off behind a rock face, almost out of the wind was Joar Leifseth Ulsom: "Sebastian, what do you think of this idea?" I could not help but to resound, "You have had better ones". Noting by the fact that he did not have straw, like Travis Beals, who had intentionally camped a few miles past Koyuk earlier in the day, Joar needed to stop for an unplanned rest. At least it was nice and warm out and Joar looked all nice and cozy in his sleeping bag. A short chat later we were on our way again, soon on top of Little McKinley offering a dynamite view of Golovin Bay.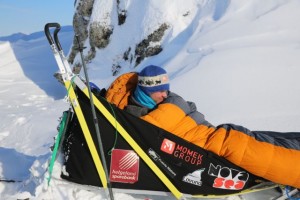 The bay had nice snow cover, not 2 foot standing water like for the Irondoggers. Much appreciated. Shortly before the town of Golovin we passed * Spider-Aliy-Zirkle ", working hard as usual. The trail was in excellent shape, maybe 10 mile an hour headwind.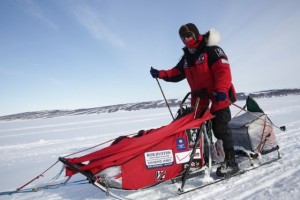 Almost in White Mountain, Jessie Royer was working up a storm. Not that I do not already have a gazillion pictures of her nice looking team, I could not help but to stop and take a few more. Big old black "Reecees" always catches my attention in her team. I ran him back in 2011. His line is always tight, big 70 lb. dog too.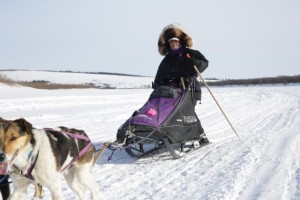 Here in White Mountain things are well organized as usual. The race seems to be more or less decided  (so we thought last year). Dallas Seavey had the fastest run time and sits a solid 4 plus hours ahead of his dad Mitch Seavey, who has Aaron Burmeister about 45 minutes behind him. Aaron has been traveling slower the last couple of runs. Yet I am sure Mitch will look back here and there to make sure he is not caught from behind. Jessie Royer is 2 hours behind Aaron. I would be surprised if too many places change hands in these last miles. The weather forecast is mellow. 
We might stay in White Mountain for the night. Never stayed here and a lot of people are covering the finish anyhow, so I'd rather catch a few more people coming in here. Plus, I have to admit, I want to prolong it…. one more night, to having to get back to real life!
Happy trails, enjoy the pictures. Sebastian
Camp out from Joar Leifseth Ulsom
Aliy Zirkle on Golovin Bay
Jessie Royer on Fish River near White Mountain