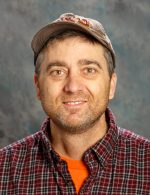 Gunnar Johnson
Hometown:
Duluth, MN
There are no records for this musher during the 1991 race.
Biography
Gunnar Johnson, 52, was born and raised in Minnesota. During his growing up years he spent many summers in Alaska. He received a degree in biology from the University of Minnesota at Duluth and his JD from American University in Washington, DC. He spent two years in Alaska running dogs, commercial fishing and working for the court system. He first began mushing in 1990 but when he was eleven years old in 1979 he saw Jim Lanier's slide show on his first Iditarod. Gunnar says "that changed my life". He ran the Iditarod in 1991 and came back in 2004 and ran the Copper Basin, then the Denali Doubles in 2016 and the Northern Lights 300. "I have strong memories of my 1991 Iditarod. I was 22 years old when I started the race. I felt like I was in my late 40's when I finally rolled into Nome. I gained a lifetime of knowledge between Anchorage and Nome. Now years later, mushers like Martin Buser, Jeff King, Ketil Reitan and Mark Nordman are still involved with the Race. Others like susan Butcher, Joe Redington Sr. and Steve Fossett are no longer with us."
"I am taking a break from legal work this winter. My children are off to college. Jim Lanier still has a few dogs left from his 2020 Iditarod team. Now is as good of a time as any for me to run the Iditarod one more time. It is a special opportunity to be a part of this amazing race. I'm looking forward to it in 2021." Gunnar has twin 18-year old daughters, Ilsa and Lily. He lists his hobbies as "watching my daughters play sports, cross country skiing, hunting and fishing".