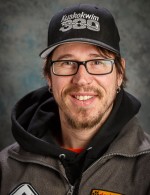 Biography
Brent Sass, 37, owner and founder of Wild and Free Mushing, has been racing and training huskies for 13 years. Originally from Excelsior, Minnesota, Sass moved to Alaska in 1998 to "fulfill a lifelong dream of living in Alaska." He's been following his dreams ever since. After attending UAF for 4 years and graduating with a major in Geography, he started building log cabins and started his own building and rental cabin business in at the Goldstream Valley outside of Fairbanks. In 2011 he bought a homestead in Eureka, Alaska and has been breeding, raising and training dogs and living a remote wilderness lifestyle ever since. Since his first race in 2006, Sass has placed in over 20 races, including several first place finishes. He has run the 1000 mile Yukon Quest nine times and won the race in 2015. He was the Rookie of the Year in the 2012 Iditarod and is eager to be back on the trail in 2017. Brent's entire team will be dogs that he has bred, raised and trained their entire life. He has an amazing bond with his dogs and feels that his remote mushing lifestyle will put him in contention to win the race in 2017. Brent lists his occupation as dog musher/wilderness guide and his hobbies as wilderness travel and hunting.
Sponsors
Manmat Equipment
Head Lites
Mainscape
Arctis, LLC
Ryan Hughes
Ed and Willow Salter
Arctic Circle Photography
Horst Expediting and Remote Operations
Kurt Wold

Tiger Mountain Scientific Inc
Allen Ballew. CDrive Computers
James Moody
Beth and Bob Letto
Joe Hardenbrook & Anna Sorenson-
Amazing Food Drop food
Big Dan's Trucking dog meat sponsor
Mark and Chris Sass (Mom and Dad)
All my friends and family, without them none of this would be possible All my Loyal Facebook Friends Thank You!!!
2015 Standings
Checkpoint
Time In
Dogs In
Time Out
Dogs Out
Rest Time
Previous
Layover
Status
Distance
Enroute Time
Speed (mph)
8hr
24hr
Anchorage
3/07 12:31:00
12
Fairbanks
3/09 12:18:00
16
Nenana
3/09 17:36:00
16
3/09 17:41:00
16
0h 5m
5h 18m
11.32
60
Manley Hot Springs
3/10 05:48:00
16
3/10 10:13:00
16
4h 25m
12h 7m
7.43
90
Tanana
3/10 17:30:00
16
7h 17m
9.06
Disqualified
66