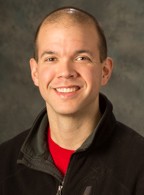 Philip Walters
Bib Number:
51
Hometown:
Eagle River, Alaska
Biography
Philip Walters, 32, was born in Washington, D.C. and raised in Lanham, Maryland. He attended the University of Georgia as a Music Education major and was a member of the UGA Redcoat Marching Band, graduating in December 2004. He moved to Alaska immediately after graduation, having fallen in love with the State on a visit in 2002. Philip began working in the Anchorage School District in 2005, teaching for eight years at Bartlett High School; he currently teaches at Nicholas J Begich Middle School. He earned his master's degree in music from the American Band College of Sam Houston State University in 2010. Philip has volunteered with Iditarod every year since 2006, including several years as a race communications volunteer in trail checkpoints. He, his wife, Jamie and their infant son, Peter, live in Eagle River.
Philip began running sled dogs in 2007 with the gracious help of Kurt and Val Jokela and with Alan Peck and Barbra Trost. Since 2013, he has been running dogs from Snowhook Kennel in Willow, owned and operated by Justin and Rebecca Savidis, who have generously helped him get to the Iditarod. Philip is proud and honored to be a part of the Snowhook Kennel team!
As a veteran music educator, Philip has become increasingly motivated to ensure that all students have access to quality education, particularly music education. He hopes that during his training and running of "The Last Great Race on Earth", he can shed light on the education funding crisis in Alaska and across the country and emphasize the importance of the arts in every student's education.
Philip would especially like to thank his wife Jamie for her support and understanding through this adventure!
Sponsors
Anchorage Education Association
Five Sibes Sewing and Repair
Countless private donors who have helped make it to the starting line
Special thanks to Justin & Rebecca Savidis, Kurt & Val Jokela, Alan Peck & Barbra Trost
2015 Standings
Checkpoint
Time In
Dogs In
Time Out
Dogs Out
Rest Time
Previous
Layover
Status
Distance
Enroute Time
Speed (mph)
8hr
24hr
Anchorage
3/07 11:47:00
12
Fairbanks
3/09 11:38:00
16
Nenana
3/09 18:16:00
16
3/10 00:26:00
16
6h 10m
6h 38m
9.05
60
Manley Hot Springs
3/10 16:21:00
16
3/11 00:58:00
14
8h 37m
15h 55m
5.65
90
Tanana
3/11 11:01:00
14
3/11 19:22:00
13
8h 21m
10h 3m
6.57
66
Ruby
3/13 06:04:00
13
3/14 07:21:00
12
25h 17m
34h 42m
3.43
Scratched
119