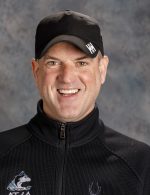 Biography
Born and raised in Ottawa, Canada, Jason Campeau, 45, was infused from an early age playing hockey with the ambition of attaining success by hard work. Jason went on to a successful OHL career with the North Bay Centennials where he scored the game 7 overtime goal, earning the team a trip to the Memorial Cup. Jason then attended the Toronto Maple Leaf's training camp in the NHL, prior to his last year with North Bay. Jason believes that sport is one of the best educations a person can get to prepare for the business world and all facets of life. Jason was fortunate enough to be awarded an athletic scholarship at the University of New Brunswick for Hockey, where his team won its first ever National Championship and Jason went on to graduate with his BA in Business. From the hockey rink to the board room, Jason has taken that same drive and determination to reach his goals as the Executive Vice President of Maplesoft Group, a Global systems integration company. Jason is also part owner of RSG Sports, a professional sports agency based out of St. Louis that represents NHL players.
As Jason continually balances his corporate life, he has turned to a more family-orientated approach to filling his competitive desires in dog mushing. As a young boy, Jason had a dream of one day having the ability to run sled dogs. Family and teaching his daughters Jessica and Mackenzie, 16-year old identical twins, about the great outdoors and how rewarding it can be to work with animals, turned that dream into reality. Jason's wife, Jennifer, is now qualified to run both the Iditarod and Yukon Quest. Both Jason's parents, Gail and Jean, are heavily involved with the kennel along with his brother, Jody, who is the kennel's general manager. As you can see it is a true family affair and a boy truly living his dream with his best friends–his dogs.
Jason is a member of the Ottawa Regional Cancer Foundation. He lists his hobbies working with Turkish Knangal and horses as well as camping with his family.
Sponsors
Outdoor Survival Canada,
Dog Booties.com,
Cedarwood Veterinary Hospital,

Pet Planet,
Dr. Carsons,
Lupins North America