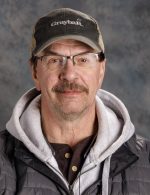 Biography
Alan Eischens, 60, is a life long resident of Alaska, and has a great love for the outdoors. His peace and serenity is while being with his dog team, whether training or running races. Alan and his wife Tanjala, started Double E Kennel in Wasilla in 2011. Alan has a huge heart for children. He and his kennel will be partnering again this year with National Pediatric Cancer Foundation. Whether training or racing, Alan dedicates all his miles to those who are suffering or have gone before us and are with the angel watching over the team and him. In 2016 and 2017, Alan was able to bring all 16 dogs across the finish line in Nome. With this accomplishment, the kennel takes pride in holding this record. Both times when finishing the Iditarod he would say, "the Kids and I did it"! Alan and Tanjala own and operate Cable17, HomeStyle Plus Catering and Cleaning. He enjoys visiting with children that are or have been effected by Pediatric Diseases and/or Disabilities. To see the joy in each one of their faces when we talk with them, makes everything better.
Double E Kennel would like to honor Jaret Juarez-Guerrrero. Jaret was our biggest fan and ambassador for Pediatric Cancer and Diseases. Jaret was the legs for all the sick children and was suddenly taken from us in May 2019, We all miss Jaret.
Alan is the father of three adult children, 3 stepson's, 22 grandchildren and 1 great grandson.