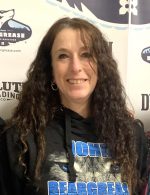 Biography
I was a rock musician with two self-released CDs when I got a Siberian Husky puppy as a pet in 2000 and quite by accident discovered the world of dog-powered sports. Initially my intent was just to have some fun while exercising my dog but I quickly became addicted to the Siberians and talking about running Iditarod someday.
Being a musher and being a rock musician have a lot in common: both can become all-consuming lifestyles rather than just hobbies, both raise eyebrows when you explain to strangers what you do and both tend to eat up all your finances, although frankly, being a struggling rock musician was way cheaper.
These days I have a kennel of approximately 35 dogs, mostly ones I bred and trained from puppyhood, many of them are second and third generation Sibersong lines. My kennel and team are still about 75% Siberian Huskies with the remainder being Alaskan or 'Sibaskans' as I refer to my Alaskan-Siberian crosses.
I've been working towards this race for many years and am excited to finally be signing up!
SPONSORS:
The Last Chair
Minus33 Merino Wool Clothing
Toddy & Doug Munson
Georgia Urban Mushing/Anna Marmann
Larry Lubonty
Dana Kevelder
Quadtek Inc.
Chesapeake Siberian Husky Club
Sue & Bob Bain, in memory of Meco & Willow
David Foucher & Kenley Kline-Foucher
Jeanne & David Seaquist
Peggy & Joel Grass
Megan Moberly
Distinctively Devyn Art