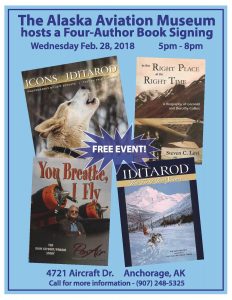 Alaska pioneers, Iditarod dog mushing, photography, starting and running an airline are the topics of special book signing featuring Alaska books from four different sources Feb. 28th.
"This is an exceptional chance to meet and talk to real Alaskan authors and book publishers," said Lael Morgan with Epicenter Press. On hand to sign and sell their books on February 28 from 5- 8 PM will be:
Official Iditarod Race Photographer Jeff Schultz with "Icons of the Iditarod." Jeff's images of the Iditarod show the photographer's love of Alaska's long-distance sled dogs and its majestic scenery.
Jon and Jona Van Zyle, Walt and Gail Phillips, Rob Stapleton, Frank Flavin, Jo Crane, Frank Gerjevic, Joe May, Raine Hall, Tim Jones and other members of The Old Iditarod Gang will be on hand to sign the 424 page "Iditarod: The First Ten Years" written and photographed by dozens of Iditarod supporters, mushers, journalists, artists, volunteers and fans chronicling the history of the first decade of the Last Great Race. Special guests include mushers 1980 Iditarod Champion Joe May, Sonny Lindner, artist Rose Albert and photographer Fran Durner.
Steve Levi-If your Alaska dream involves getting rich and doing just what you please, the biography of Grenold and Dorothy Collins, "The Right Place at the Right Time" researched and written by Steve Levi an author of over 80 books might prove a useful guide.  Recently published by Epicenter Press through the efforts of the couple's charitable trust and the Collins Foundation.  Although the Collins were early pioneers who died in the 1990s, the newly published history on the Collins couple details how they beat the stateside Depression that nearly broke them to build a good life well beyond their early dreams by creating a flight service and a travel agency, to live the dream Alaska lifestyle.
"You Breathe, I Fly" by Orin Seybert chronicles the founding of a regional Alaska air carrier PenAir. Seybert an Alaska Aviation Legend explains the expansion of the airline from flying a two place Taylorcraft from Pilot Point in the early 1950s to an airline using Saab 2000 aircraft that carry over 50 passengers to and from Dutch Harbor, Alaska. The sales of Seybert's book benefits the nonprofit Alaska Aviation Museum.
"This is Iditarod week, so we are hoping to get Iditarod mushing legends to be on hand to sign their photographs in the books as well as getting books signed by these authors," said Raine Hall with the Old Iditarod Gang and a former Executive Director of the Iditarod Sled Dog Race.
This is a free event that will be held from 5-8p.m. on Wednesday Feb. 28, 2018 at the Alaska Aviation Museum.
 For more information contact the Alaska Aviation Museum 4721 Aircraft Drive, Anchorage, AK 99502 (907) 248-5325.