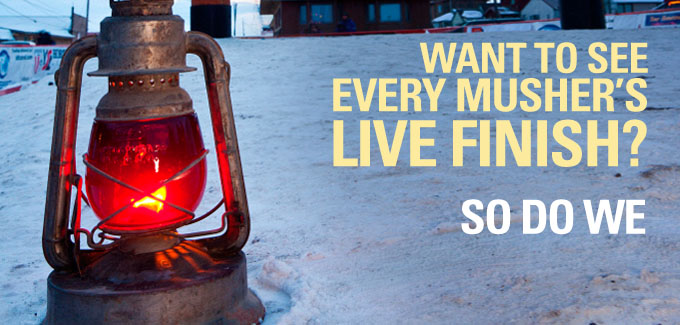 Martin Buser made an unprecedented run to Rohn.  A calculated risk that raised many eyebrows, but Martin was confident in his team. 
It is with that same spirit that the Insider team presents a new idea for Iditarod fans. Based on fan feedback, we are going to offer a live video stream for every musher's finish.
It's never been done before. Between logistics, weather and the technology hurdles, it will be a challenge to pull off. But with ingenuity (and some duct tape) we've figured out a way to let you see every musher cross under the arch! 
This is a work in progress, but we're confident that we can make this happen and give our loyal race fans something they've never had before.
You need to be an Insider to see it, so don't wait too long.
Here's how it's going to work… We will be attaching a high-definition un-manned camera (not a webcam) to the Burled Arch that will run all the time starting just after the first musher reaches Nome.
This is where our technology comes in handy. Set your Musher Alerts for the five finishers that you want to see. When they leave the Safety Checkpoint, you'll know when your favorites are heading for Nome!
You will see all the mushers passing under the Arch, and hear the live Public Address Announcer welcoming the mushers to Nome.
This is really cool stuff that hasn't been done. That doesn't mean we shouldn't try!
If you are already an Insider subscriber, there is nothing more to do except watch. Not an Insider – See the Plans.