Congratulations to these 3 educators! The Iditarod Education Department has selected them to be the finalists for the 2024 Iditarod Teacher on the Trail™️. Each year, teachers from around the world apply for this honor starting with a portfolio submission, due December 1. This portfolio takes months to compile because it includes showcase lessons, experiences and background that are helpful to performing the tasks of the Teacher on the Trail™️, letters of support from districts and administrators, a video introduction, many answers to important situational questions, and more. It is a candidate's opportunity to put their "best boot forward" in hopes of being selected to continue the process.
Each member of the committee reviews and scores each application. These scores provide a rank for the applicants. But it is not just the score that determines the choice. The committee meets to discuss their perspectives on the strengths and possibilities of each applicant based on the their professional knowledge of the role of Iditarod Teacher on the Trail™️. The selected three have now "nudged the door open" a bit further and are invited to place their boots on the ground in Alaska the week before the upcoming race for the next round of competition. Here is where they work with Iditarod education committee members, present at the educators conference, and do "assignments" so to speak.
Join us in congratulating and welcoming these three finalists who have accepted the challenge and are on their way to Alaska for the next round of their application process. Meet our finalists for the 2024 Iditarod Teacher on the Trail™️ through the bios and photos they sent in their applications. (in alphabetical order by last name)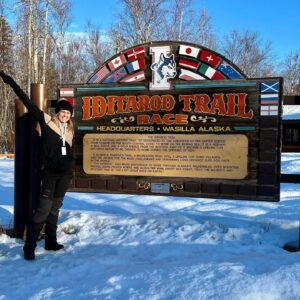 Andrea Cox is a middle school teacher in South Beloit, Illinois. Over the past 13 years she  has worked with all grade levels from 1st through 8th grade, in both special and general  education. She has taught 6th and 7th grade for the past seven years, specifically teaching ELA  the past four years. When she is not lesson planning and grading essays, some things you  may find her doing are spending time with her family & friends, reading, paddleboarding,  going to concerts, and always looking for the next best sunrise or sunset. Andrea has a rescue  pit bull named Rex, who she is pretty sure would make a great wheel dog, if only he had  thicker fur and some team spirit. She also has a rescue cat named Zula.  
In November 2017, Andrea became involved with important work that led to her  founding and becoming the Chair of a 501(c)(3) nonprofit organization within her  community. Her nonprofit works to support first responders, for which she dedicates much  of her time. This work and what led to it is a defining chapter of her life.  
A decade ago, while teaching 4th grade, Andrea's co-teaching partner suggested they  learn about and teach a unit about the Iditarod, which sparked an instructional passion for a  unit and topic that she looks forward to introducing students to each year. Together, they  created a multi-week, cross-curricular unit that they presented about at the Illinois Reading  Council's Reading Conference in October 2017. After starting a savings fund in 2016 to one  day get to Alaska to see the Iditarod, they finally made that dream come true and were able to  be at the Educators Conference and the starting line of the 50th Iditarod in 2022. Being a part  of the 2022 conference is what officially pushed her to apply to be the Teacher on the Trail for  2024.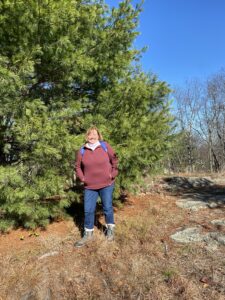 Keeli Cullen I was born and raised in rural Vermont, in the town of Bradford, and traveled throughout the state frequently as a child to visit family in even more remote parts of the state.  Including my Grandfather's home in East Concord.  My Grandfather instilled in me a deep love of the outdoors, hiking, snow shoeing, learning about the native ecology and caring for the environment.  All things I continue to do today.
I attended Vermont public schools and graduated from Green Mountain College with a degree in Elementary Education.  I received my licensure to teach in Vermont and currently hold a Massachusetts teaching license for PreK-2nd Grade.  
I began my teaching career in Vermont working with Kindergarten aged children in an afterschool program where I expanded the "Geo Rangers" program that included outdoor education, daily hikes, and creating play areas in the natural environment.  
After moving to Massachusetts in 1996, I taught in a special education preschool in Cohasset for 12 years and then I moved into a dual role as Education Coordinator, an administrative position, and Kindergarten Prep classroom lead teacher at the Centre School in Milton.  After 10 years in my dual role, I returned to teaching full time in 2018 as the lead PreK teacher at The Cooperative Nature School when it opened.  Welcoming the opportunity to share my expertise, I was involved in the planning and set up of the new school.  Now, successfully in our fifth year, The Cooperative Nature School, located on Trustees Moose Hill Farm in Sharon, allows me to apply and share my knowledge and enthusiasm for the outdoors daily as we hike and explore the 350 acre reserve of wetlands, trails, uplands and fields with the children and their families.  
Married for 22 years, my husband Michael and I live in Rockland, sharing my love of the outdoors.  We enjoy bird watching, hiking, and riding our bikes on the local trails and kayaking with family and friends.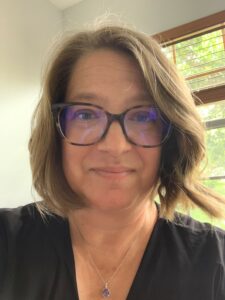 Kate Newmyer I was born 50 years ago and have lived in eight states.  When I was a child, I loved being outside in the summer, and grew up camping, hiking, biking, and sailing with family and friends.  As I grew older, music, art, textiles, and languages enhanced these pursuits.  I studied Greek, Latin and art history in college, including a semester in Rome.  I began my art career as a Registrar with the Portland Art Museum in Oregon, where I took care of the collection and collection records. When I met my husband, I moved to rural Colorado.  Together we completed a water well service project in Mozambique West Africa.
Soon after our first child was born, I took an opportunity to teach secondary music in a tiny district.  I worked hard to build a band program that my underserved students and their families could be proud of.  My fondest memory of that time is holding parade marching practice along our tiny town's streets, the Sangre de Cristo mountains rising in the background.
In 2014 our family moved to Washington, D.C. for one year.  I became my children's teacher, and we hardly ever stayed home.  This was truly a "year out of time" in which we soaked in the city's rich history and culture and made the National Mall our back yard.