by Martha Dobson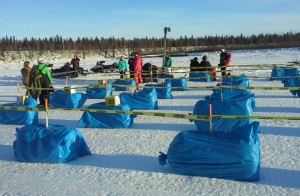 A well-oiled machine. Smooth as silk. The Yentna checkpoint race routine is a machine that's smooth as silk. Years of running the checkpoint creates experience which pays off in getting the tightly bunched mushers checked in and out of the checkpoint, a place where teams usually go through without staying.
Dan and Jean Gabryszak, with 35 years of experience, and their family and friends run the checkpoint, gathering there the day and evening before the restart to build the six race chutes with blue, plastic wrapped straw bales and caution ribbon–no bottlenecks here– stack the straw and provide the HEET fuel for teams, chop the water hole in the river ice, and set up a team parking area for teams who decide to rest in Yentna.
Snowmachines buzz up and down the river, arriving at the Yentna Roadhouse and hauling supplies into place on the river. Iditarod Air Force planes land and take off from the river, delivering race volunteers. Dan and Jean cook the meals and when Dan says, "Come eat!" that's what we all do. And the eatin' is good!
Race meeting at noon on the day of the restart–we're all required to be there to get the directions from the family about how things run, where we stand, where we don't stand, and then we go out to the checkpoint area on the river to get final details.
Yentna is only 42 miles from the restart in Willow, so Yentna is "fast 'n' furious" when teams come through.Tightly packed teams travel the trail on the river, not yet having enough distance to spread out.
Six race chutes, five checkers, 5 vets, someone to remove the race bib and box it, another person to get musher autographs on three posters is what it takes to get teams in and out.
Checkers, who record the IN time, bib number, number of dogs, and race position, bring that information to two race comms (communications) volunteers who record it and radio it to another comms volunteer inside the roadhouse who emails it to race headquarters in Anchorage. Vets assess teams arriving, talk to the musher, sign the mandatory vet book, and care for any dogs dropped from the teams. More volunteers at the OUT chute, adults and children, yell, "What's your bib number?" to outgoing mushers and count their dogs as they speed by.
In less than 12 hours, 85 teams pass through Yentna. Indeed, a well-oiled machine.