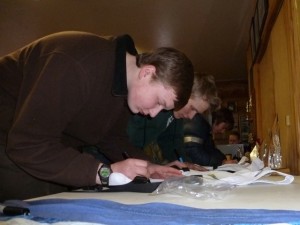 The Junior Iditarod mushers have drawn their bib numbers and will be heading to the staging area on Knik Lake for the 10:00 start on Saturday, February 25th.  The mushers, ranging in age from 14 to 17, will take a seventy-five mile route out to their layover at Yentna Station Roadhouse.  After resting for ten hours plus the start differential, the teens will begin the second leg of the race, a seventy-five mile run to the finish line at Willow Lake.
The field for the 34th Junior Iditarod includes eight rookies and three veterans.  Of the five female mushers and six males mushers, four are from the lower 48.  Chelsea Davis from California, Aiyana Ferraro and Jenny Gregor from Montana, along with Bailey Vitello make up the larger than ever before group from outside of Alaska.  Veteran mushers include Jenny Gregor, Jesse Klejka, and Conway Seavey. 
For the first time, a "halfway" prize will be awarded to the first musher into Eagle Song Lodge on the way to the finish in Willow.  Once again Lynden, an Alaskan based transportation company, will be awarding scholarships to the top five finishers.  Lynden also presents the Humanitarian and Sportsmanship awards.  Previous scholarship winners have used the funds to attend college, flight school, trade school, and business school.
Remembering 40 Years of Iditarod… In the early years of Iditarod, young mushers watched family and friends head out across the great state of Alaska with their dog teams to conquer the trail to Nome.  The youngsters conceived the idea of having a race of their own – a first rate competition, not just another camping trip.  They consulted Iditarod founder Joe Redington.  Sensing their passion and desire, Joe offered encouragement and endorsed their idea.  Tonight the stage is set for the 34th running of the celebrated Junior Iditarod.
There are many businesses and individuals who provide prizes for the junior event.  As a thank you, the junior mushers signed bibs that will be presented to the sponsors.  There was a lot of excitement at the musher meeting.   As the dog trucks arrive at Knik Lake in the morning, the dogs will add their energy to that of the mushers.  It looks like it will be an excellent event.  The trail was reported to be hard and fast.  Follow the progress of the teams from start to finish at www.jriditarod.com.
By Terrie Hanke